Guidelines for the Management of Medically Complex Dental Patients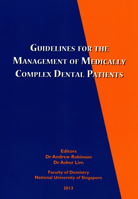 Price : SGD 28 *Price inclusive of GST
Guidelines for the Management of Medically Complex Dental Patients
Editors : Dr Andrew Robinson and Dr Asher Lim
Product Details
Paperback: 120 pages
Publisher: Faculty of Dentistry, National University of Singapore
Language: English
ISBN-13: 978-981-07-5902-5
Product Dimensions: 210 x 148 x 6 mm
Shipping Weight: 169 g
---
How to Purchase the Book
Orders may be made via email, fax, phone or mail order. Please complete the order form.
By Email - Please send email with form attached to Ms Ti Kai Xin at
By fax - Please fax the form to Ms Ti Kai Xin at 6778 5742
By phone - Please call our Hotline at 6772-5340
By Mail order - Please mail in the order form together with a Cheque made payable to "National University of Singapore".
Note: Please add S$1 postage for EACH copy of book ordered for delivery to local address.
The book may also be purchased over-the-counter at::-
Faculty of Dentistry
Dean's Office
11 Lower Kent Ridge Road
Singapore 119083
Note: Payment will be in CASH.
---
Book Description
Guidelines for the Management of Medically Complex Dental Patients is a Dental Practitioner's Guide to the safe management of dental patients with medical conditions.
This is a first publication of its kind, written by local dental specialists from the Faculty of Dentistry, National University of Singapore (NUS) and University Dental Cluster, National University Health System (NUHS) in collaboration with leading medical clinicians and academicsfrom University Medical Cluster, NUHS and Yong Loo Lin School of Medicine, NUS.
Dental students, postgraduate residents, general practitioners and hospital based dental clinicians will find this new publication beneficial.
---
Table of Contents
Contibutors
Introduction
1. Evaluation and Risk Assessment
2. Cardiovascular Disorder
3. Respiratory Disorders
4. Neurological Disorders
5. Endocrine and Metabolic Disorders
6. Renal Disorders
7. Liver Disorders
8. Haematologic and Oncologic Disorders
9. Bone and Joint Disorders
10. HIV and other blood-borne infections
11. Prenancy
12. Geriatric Dental Patients
Appendixes
Glossary
References
---
Book Reviews
... management of the medically complex patient for dental general practitioners in a nutshell ... a concise and highly relevent guide
-- Associate Professor Grace Ong, Dean, Faculty of Dentistry, NUS and Chair, University Dental Cluster, NUHS
... a very practical, useful and comprehensive guidebook for all members of the dental team managing patients with complex medical conditions... information is current, evidence based and systemic for easy reference
-- Cl. Associate Professor Patrick Tseng, Chief Dental Officer, Ministry of Health, Singapore