Oral Health Services Focus Group -
Research Highlight 2
NIH International Study On Child Dental Health
The National Institute of Health, USA has approved a generous research grant for a multi-centre study on child dental health. This international collaborative study aims to investigate factors that influence and determine caries in children in different ethnic, cultural and socio-economic background. The project is co-ordinated by Principal Investigator Professor Cynthia Pine from the University of Dundee. A total of more than 32 dental scientists from 11 countries are participating. This study in Singapore is supported by the Health Promotion Board as well as the National University of Singapore. The study team comprise Drs Eu Oy Chu, Adeline Wong, Teresa Loh, Betty Mok, Stephen Hsu and co-ordinator Teo Choo Soo.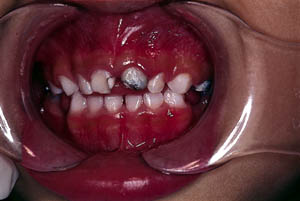 Tooth decay in a young child.
Essentially the study involves the conduct of a comprehensive survey for 2 groups of care-givers - the dentist population and the parents. More than 400 survey forms will be sent to local dentists to determine their attitude to serving the young cohort. The study also identifies 200 parents to respond with regards to their role in child dental care. These 200 children will undergo a clinical examination to establish the dental health status, including the collection of plaque samples from some of the children.
Results of this study will be helpful in the local and international context. A better understanding of the factors that contribute to the variation of caries experience can help dentists provide better and more efficient dental health care.