Opening of New Extension and Facilities of Faculty of Dentistry by Professor Shih Choon Fong, President and Vice-Chancellor of NUS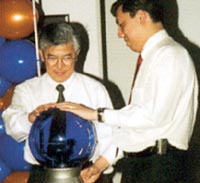 Prof Shih, President and Vice Chancellor and A/Prof Keson Tan, Dean Faculty of Dentistry
NUS President, Professor Shih Choon Fong opened the new Level 4 facilities on December 1st, 2001 with a bang when two cannons of confetti showers and seven guns of fireworks were triggered.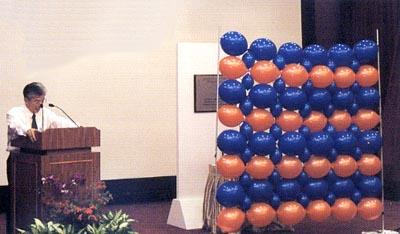 NUS President, Prof Shih speaking at the Opening Ceremony in the New Auditorium
The ceremony celebrated the opening of the new 150-seat auditorium, the Faculty's Multimedia Development Laboratory, the Biomaterials Laboratory, the Students' Lounge, and two new seminar rooms. The Dean also announced completion of renovations to the Preclinical simulation laboratory with upgraded patient simulators, as well as a Clinical training unit room equipped with a high-end surgical microscope that has audio-visual links to the Auditorium. The whole faculty including staff and students were on hand to entertain and conduct tours for the benefit of our distinguished guests including those from overseas.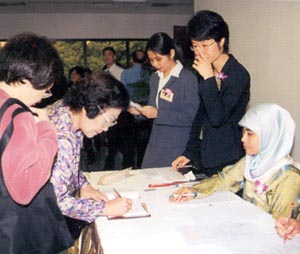 Mrs Lau Kieng Hiong signing the guest book at the new level 4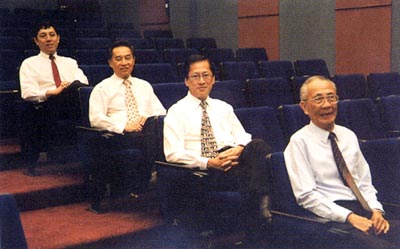 First four Deans all in a row. Bottom to Top: Dr Edmund Tay, Prof Loh Hong Sai, Prof Chew Chong Lin and A/Prof Keson Tan
During the Ceremony, Dr Edmund Tay, the first dean of the Faculty of Dentistry, NUS was present to launch the Dr Charlie Lau Kieng Hiong Memorial Fund to commemorate the dedication of a man who had contributed tirelessly to the University and the Faculty.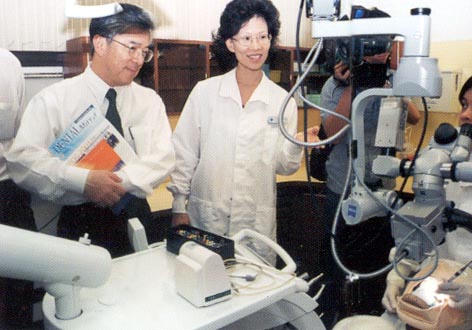 Prof Shih being introduced to the High-end Surgical Microscope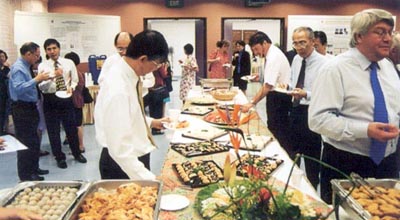 Reception cum poster display in the new seminar rooms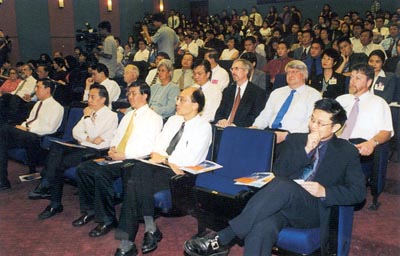 Guests seated in the new Auditorium
The event included tours of the new facilities, and was rounded off by a tea reception during which Professor Shih mingled with guests, staff and students.
Geoffrey Lau, Faculty Manager
Adapted from a report prepared by A/P Keng SB for the FOD webpage