New Chairman of FERC's Speech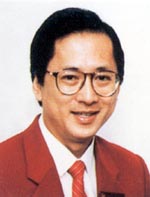 Prof Loh Hong Sai
I am pleased to have the honour to chair this committee, for which my predecessor, Prof Teo Choo Soo and his team had done so much to enhance our Faculty's activities and external relations with NUS, NUH and related institutions. Public awareness of dentistry and its educational opportunities are areas we develop to encourage students to persue dentistry as a career.
We would continue to produce and upgrade the various Faculty publications, namely the Handbook, Dental Mirror and Annual Report. In addition, this committee would support activities of the Dental Society and NUS like the Public Health Screening and Fiesta on the Ridge respectively. Visitations from elective students and invitations for lectures are areas of focus for our calendar of events!
The Charlie Lau Kieng Hiong Memorial Fund was set up by the NUS to honour a very prominent alumni , who had contributed his lifetime to university education and dentistry.
In this respect, this committee seeks the passionate and generous support of the dental profession to raise an endowed fund to award scholarships and travel grants to students and support the many academic activities of the Faculty.
Prof Loh Hong Sai
Chairperson,
Faculty External Relations Committee