STAR Award
Dental Centre was amongst the few wards and clinics in the hospital to receive the STAR award in recognition of excellent customer service during the 1st quarter of this year. In addition, two Dental Centre staff (out of 9 recipients) were also awarded individual awards. PSO Connie Lim was the only one in NUH to be presented with a 5 star award, as she has received 25 compliments, Dr Tseng was presented with a 1 star award as he has received 5 compliments from patients.


All the Star Award recipients including PSO Connie Lim and Dr Patrick Tseng
The STAR awards were formulated to acknowledge and appreciate NUH staff for their commitment to exemplary service through their attitudes and actions.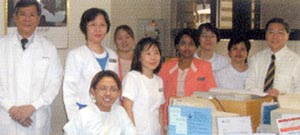 Staff of the Dental Centre
This is the first time that NUH is organising the awards officially although in the past staff have been complimented for providing good service. The awards are given on a quarterly basis and are divided into two categories ie. individual and group. The ratings given are as follows:
a) Individual
5 compliments - 1 Star, 10 compliments - 2 Star, 15 compliments - 3 Star,
20 Compliments - 4 Star, 25 Compliments - 5 Star
b) Group
10-19 compliments - 1 Star, 20-29 compliments - 2 Star,
30-39 compliments - 3 Star, 40-49 compliments - 4 Star, 50 compliments - 5 Star
Sister Ng Gek Lang
Nurse Manager,
Dental Centre, NUH
---
International Advisory Panel report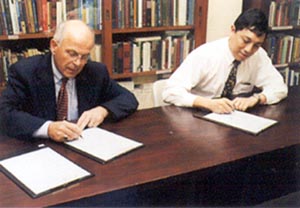 Signing of MOU between NUS (A/Prof Keson) and UNC (Prof Stamm) in conjunction with the IAP Visit
The Faculty was pleased to host its two distinguished members, Professor Nairn Wilson and Professor John Stamm again from 26-30 November 2001. Professor Wilson is Dean of Guy's, King's, St Thomas' Dental Institute, London whereas Professor Stamm is Dean of the School of Dentistry, University of North Carolina. They had first visited the Faculty in 1998 to appraise the Faculty's research, teaching and clinical service. This second visit was to evaluate the progress made since then.
A memorandum of understanding was signed between the Faculties of Dentistry of University of North Carolina (UNC) represented by Prof Stamm and National University of Singapore (NUS) represented by A/Prof Keson Tan.
Professor Stamm had come two days early to give the Alumni Association Rotating Visiting Professorship Lecture on "New Insights into the Oral and Systemic Diseases Relationship". He and Mrs Stamm also honoured the Faculty as guests at the official opening of the new extension and facilities of the Faculty of Dentistry held on 1 December 2002, having delayed his return by two days so that he could attend it.
Geoffrey Lau
Faculty Manager
---
Charlie Lau Kieng Hiong Memorial Fund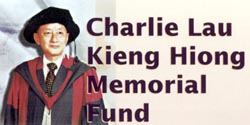 The Charlie Lau Kieng Hiong Memorial Fund has been established in NUS to honour the memory of Dr Charlie Lau Kieng Hiong and to perpetuate his very significant contribution to the University. A committee chaired by Dr Edmund Tay, the first Dean of the Faculty of Dentistry, has been set up to raise $500,000 for the Fund.
The objectives of the fund are:
Award scholarships and book prizes to encourage outstanding students to read dentistry at the University.

Award travel grants to outstanding Dentistry students.

Support eminent local and foreign speakers for the dental profession under the banner of the Charlie Lau Kieng Hiong Memorial Fund.

Support the many academic activities of the faculty
The Fund Raising Committee consists of:
Chairman
Dr Edmund Tay,
first Dean of Faculty of Dentistry, NUS
Members
Associate Professor Keson Tan,
Dean, Faculty of Dentistry, NUS

Mrs Charlie Lau Kieng Hiong
Professor Loh Hong Sai,
President, Guild of Dental Graduates
Associate Professor Lawrence Chia,
Director, Office of Alumni and Community Relations, NUS
Dr Lewis Lee,
President, Singapore Dental Association
Ms Corrine Lam,
Development Officer, Office of Alumni and Community Relations, NUS
Let's all come together to play our part by contributing towards this meaningful fund. Please send your contributions to:
National University of Singapore Endowment Fund
Office of Alumni and Community Relations
National University of Singapore
10 Kent Ridge Crescent
Singapore 119260