Recent Activities of the Guild of Dental Graduates
Two events always stand out for the Guildin its activity calendar! One is the ever popular annual golf tournament, which was held at the Warren Golf and Country Club. The usual die-hard members of the private sector, university and allied services were again club-in-hand to chase that little ball, in fine weather and company!
It culminated with a grand dinner and prize-giving ceremony. Nevermind who the winners were, for there was much gaiety, wine and talk-shop at this get together. It clearly showed the fellowship that sports could foster!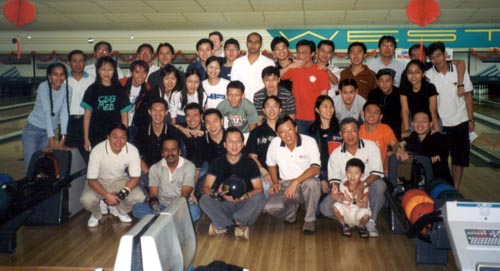 The Bowling Teams
The 9-pin tap bowling competition, held in February 2002 (West Bowl), was an equally bonding occassion, this time with the students coming in strength to pit their skills against the graduates and staff from the Faculty! Some half-asleep or awake toddlers were brought along too, as a family outing. Normally, the seniorswould win pins-down, but this timeafter almost a decade, the strikes favoured the younger and stronger students, who finally won the individual event! Well, we do have problems with an aging population, don't we? After the event, as usual, a big group feasted on a hawker-styled meal, where yarns of yesteryears in dentistry were re-lived again, to their bewilderment and amusement.
Prof Loh Hong Sai
---
Report on Annual Party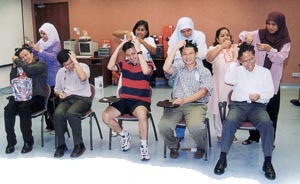 Hairs-up

Our own "Who wants to be a Millionaire" game show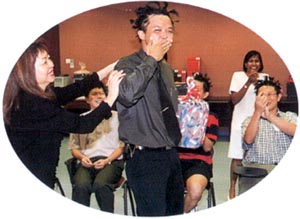 The eventual Winner

The annual party has traditionally been the "party" of the year for the Faculty for its significance in ushering in the New Year , as well as for its full sponsorship by the academic staff and professional officers in the Dental Centre as a show of appreciation towards the non-academic and the auxiliary staff ,friends and staff from the other Faculties and Hospital administration. This year it was held on 31 January at the new extension wing. It was well attended by the staff in the afternoon after work. Besides the sumptuous spread of Muslim and Chinese food, there were interesting games for staff participation and attractive prizes for the grand lucky draw for the non-academic staff. We received excellent feed back from those who attended.

Our dedicated staff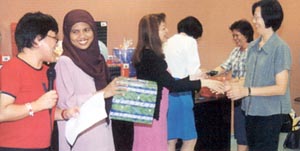 One of the lucky Winner
Dr Lo Geok Lam
Chairperson of Welfare Committee