Students Events
Dental Public Health Screening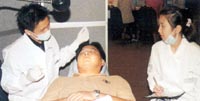 Public being screened by students
Organised jointly with the Medical Society of the Faculty of Medicine and held in conjunction with their Medic Week, this year's Dental and Medical Public Health Screening cum Exhibition was held on the 3rd of February 2002 at the Singapore International Convention & Exhibition Centre (SICEC), located next to Suntec City Mall.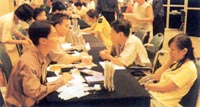 Students giving oral health instructions
The event was a project organized and ran entirely by dental students of Year 2 and 3. It included free dental health screening, dispensing of oral health instructions, an exhibition and a survey. Screened patients then received free samples of toothbrushes and floss. The one-day event was aimed to raise public awareness of oral health care. This year, we managed to screen over 300 people, about 50 more than the previous year. It was indeed a very good learning experience for those who took part.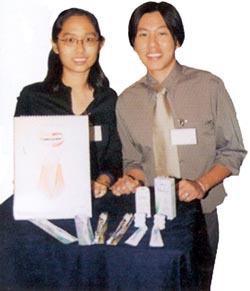 Year 2 students standing by their wares
Daniel Goh,
Year 3
---
PSU-MU-NUS Games 2002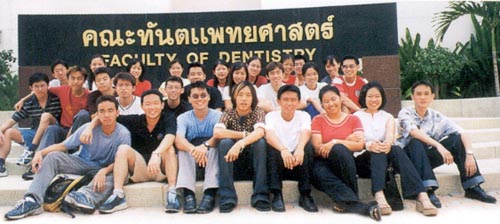 The Singaporean contingent with their new found friends at Prince Songkhla University
The Games is an annual affair between the dental faculties of Prince of Songkhla University in Thailand, University of Malaya in Malaysia and National University of Singapore. It was held in Prince of Songkhla University this year from 6-10 April and was an opportunity for dental students from the three countries to interact with one another, to rekindle old friendships as well as to forge new ones.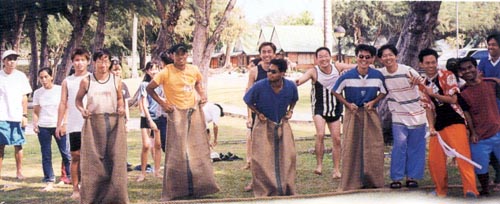 Hey, who took away our belts
Through the various sports events, we gave our best in the spirit of competitiveness and sportsmanship. But through it all, winning was not in our uppermost mind. Instead, learning to be a good sportsman, enjoying the time spent together and making new friends were the order of the day.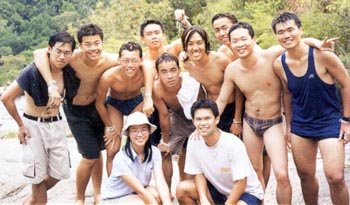 The guys showing off their well-toned bodies!
The social aspect of this event was also well-packed with visits to the beautiful beaches of Songkhla, the breath-taking Tone Nga Chang Waterfall, the history-filled Songkhla Museum, as well as shopping at the bustling Kim Yong Market and Santisuk.
What really impressed us the most was the hospitality of our hosts, who were always ready with a smile and never too tired to go out of their way to attend to our needs. They really made the saying "Thailand, the land of a thousand smiles," a reality.
Daniel Goh
Year 3