Focus on Dental Alumni
Dr Chua Ee Kiam - the Photographer and Author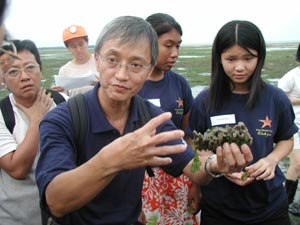 Dr Chua giving a brief explanation on the sea creatures
Dr Chua, a prosthodontist, attained his BDS degree in 1977 and his MDS (Operative Dentistry) in 1984 from NUS. He also holds a non-dental diploma in Specialist Diploma in Counselling & Guidance from Temasek Polytechnic (1998). Currently, he is a Senior Consultant in National Dental Centre (NDC) and is also the Director of Clinical Support Services in NDC.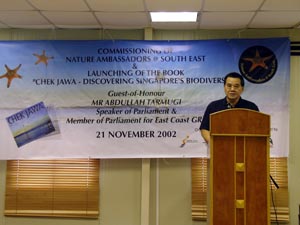 Guest-of-Honour, Mr Abdullah Tarmugi giving a speech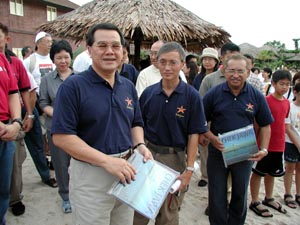 The VIP Guests recieving the books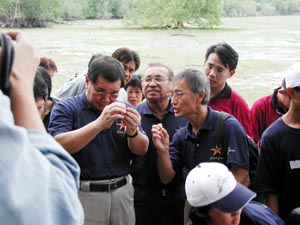 "Hey! What's the small little creature in my hand?"
His interest in nature and photography began when he joined the Nature Society of Singapore (NSS) in 1988. He pursued his interest earnestly and decided to share them by compiling the beautiful shots for books on various aspects of nature. These include:
"Nature in Singapore - Ours to Protect" highlights the wildlife in Singapore which was launched on Earth Day - April 22nd 1993. This book won the National Book Development Council of Singapore Book Award in 1994. A total of 5,000 copies were printed and the book is now out of print. He donated $52,000 to the NSS for their Building Fund to increase the awareness of nature in Singapore.
"Pulau Ubin - Ours To Treasure" records for posterity the cultural and natural heritage in Pulau Ubin. It was launched on 6 Jan 2001 with 5,000 copies in print.
"Chek Jawa-Discovering Singapore's Biodiversity" was launched on 21 November 2002.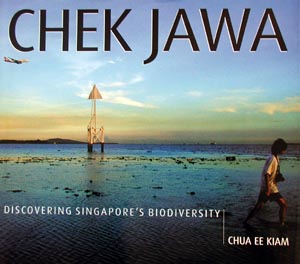 This latest book on Chek Jawa is on the fecund wildlife life (mainly marine) found in the six different ecosystems co-existing within the 1 sq km area. It also chronicles the almost futile attempt and then sudden euphoria, of saving Chek Jawa. This book will surely touch the hearts of many Singaporeans and was launched in Pulau Ubin by the Guest of Honour, Mr Abdullah Tarmugi, Speaker of Parliament and Member of Parliament for East Coast GRC. Mayor Othman Haron Eusofe of South East District was also present to grace the event. A cheque of $20,000 was presented by Dr Chua to the Raffles Museum for further research at Chek Jawa. It was only fitting that the books should surface from underwater. The books were presented to the VIPs by a snorkeler who was accompanied by 3 canoeists. The guests were later taken on a tour to view the marine life in Chek Jawa.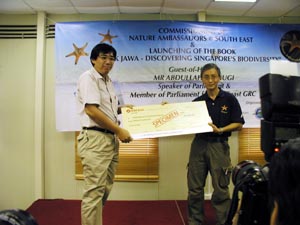 Dr Chua presenting a cheque to the Raffles Museum representative
A total of 4,000 copies were printed with 1,400 copies sold even before it was printed. Some alumni dental members helped to sponsor the book and they were Drs Lim Sor Kheng, Margaret Tang, and Chew Swee Chiok. His next book to be published will be on the natural richness of Sabah, which took him 4 years of hard work and effort to capture the essence of the nature there.
Dr Chua's success is the result of a person who dares to dream and willing to go the extra mile to make it a reality.
For more information on Dr Chua's books, you can visit his website at: http://www.simplygreen.com.sg

---
Dr Djeng shih Kien - the entrepreneur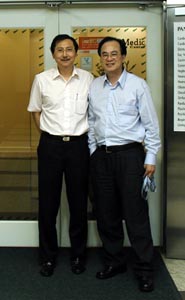 Dr Djeng (left) with CEO, Dr Dominic Er in front of Asiamedic
Dr Djeng, an orthodontist is a BDS graduate of class 1971. His postgraduate degrees include FDS., RCPS & D.D.Orth RCPS. He was a teaching staff of NUS in the department of Prosthetic Dentistry from 1972 to 1980. He later went to private practice. Until today, his tie with the university is still strong as he still comes in once a week for the combined orthodontic-orthognathic clinic.
His love for sports cars led to him and a couple of friends to set up a car dealership business known as Top Marques whereby they hold the franchise of Aston Martin, Ruf Porsche and Cadillac. This includes a well-setup workshop to deal with the ills of these cars. This is truly a great one-stop shop for all enthusiasts of these exclusive cars.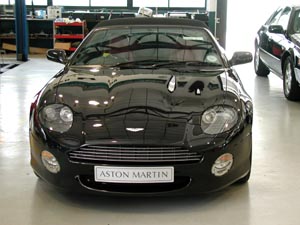 Aston Martin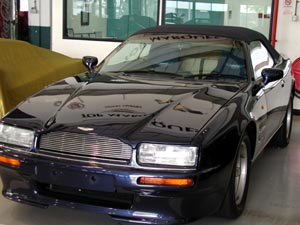 Cadillac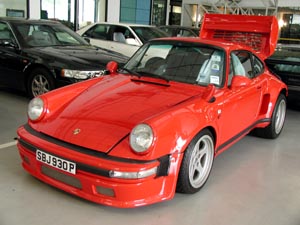 Ruf Porsche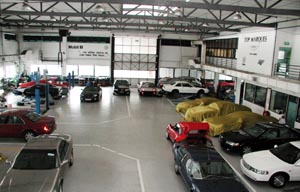 Workshop
With 2 other friends, they set up an upmarket medical center catering to all aspects of medical problems focusing mainly on aesthetics, wellness, eye and radiology. This center called the AsiaMedic Specialist Centre has the all the state-of-the art equipments and this includes the soon-to-be acquired Positron Emission Tomography scan (PET scan) which is an advanced diagnostic technology using radioactive isotopes that can detect very early stages of cancer and other diseases. This facility will be the one of the first of its kind in this region.
Apart from the above businesses, he has his fingers in healthcare products, biotechnology and even mushroom farm! Although busy with all these businesses, he still runs not one but three busy practices! His clinics are in partnership with the Parkway group.
Dr Djeng is a quiet and unassuming person who shuns the limelight. He is truly a great entrepreneur who is always on the quest to conquer new heights. He is a careful person who does his background search carefully before embarking on any business ventures.
He truly epitomizes the modern businessman who dares to be creative and to diversify.
His word of advice to those who want to succeed in the world of business is "to be focused, learn and research the business before embarking on it and you must have the right mind set and passion to succeed".
---
My Good Friend - Dr Goh Gek Kiow (1956 - 2001)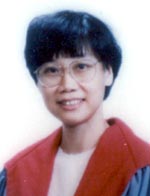 Dr Goh Gek Kiow
Gek Kiow and I became firm friends as we progressed through dental school. Her sincerity, humility, kindness, friendliness as well as a realistic and down to earth philosophy of life endeared her to many who became her good friends.
After graduating in 1979, Gek Kiow and I spent a number of years in the civil service. Later, we furthered our studies, she in Orthodontics (University of Sydney, 1986) and myself in Operative Dentistry (NUS 1988).
On her return in 1989, Gek Kiow worked with the Government before setting up a successful private orthodontic practice in 1994.
Gek Kiow had a fighting spirit and an independent mind. This indomitable spirit was most evident during the last few months of her life. She was diagnosed with cancer in May 2001. When she learned she would not get better, she sold her practice and set out to achieve her dream - to finish a book she started 7 years ago.
Gek Kiow believed there was a need for a simple book to provide answers to questions often asked by patients seeking orthodontic treatment. She drew cartoon sketches of real life situations encountered. Although physically weak and attached to morphine drips, she persevered at finishing the illustrations.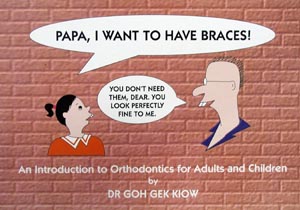 Gek Kiow achieved her goal and left a legacy behind. Her book " Papa, I Want to Have Braces" was published just days before her demise. 17th December 2001 was a special day as it not only marked the launch of her book but also the day of her funeral. It was truly a mixed emotion day for everyone who knew her.
The book contains comic drawings and humorous writing to dispel common myths, create awareness and highlight the benefits of braces. The book costs $12 with proceeds going to the St Joseph's Home and Hospice. To purchase a copy, contact St Joseph's at Tel: 62680482 or e-mail: stjospeh@stjh.org.sg
Dr Pang Soon Eng
Class of 1979
---
Associate Professor Yeo Jin Fei - Outstanding Service to the Nation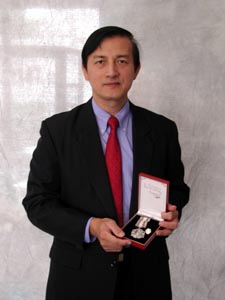 A/Prof Yeo proudly displaying his Medal
A/Prof Yeo who is the head of Oral and Maxillofacial Surgery Department, NUS was recently awarded the Public Service Medal (PBM) by the President of the Republic of Singapore at the 2002 Investiture of the National Day Awards held at the Suntec City Ballroom on Friday, 8 November 2002. This award was given in recognition of A/Prof Yeo's outstanding service to the nation as the Chairman of the National Police Cadet Corps from July 1993 to 31 December 2001.