1st NHG Scientific Congress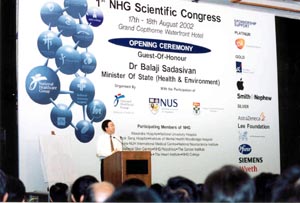 Opening Ceremony
The 1st NHG congress was held on 17-18th August this year at the Grand Copthorne Waterfront hotel. It was held jointly with the 6th NUS-NUH Annual Scientific Meeting. The theme was Years to Life-Life to Years. It was a resounding success with …..participants. There were 11 distinguished overseas speakers in the congress and one of them was Professor Bjorn Olsen who was invited by the Faculty of Dentistry, NUS. He is Hersey Professor of Cell Biology, Professor of Oral Biology and Chairman of the Harvard-Forsyth Department of Oral Biology at the Harvard School of Dental Medicine.
He gave a short lecture in the faculty where the staff had the opportunity to tap into his expertise.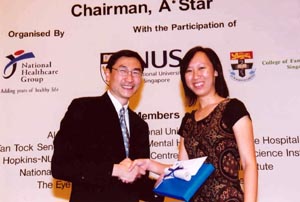 Award Winner Chou Ai Mei
One of the staff in the faculty, Dr Varawan Sae-Lim did us proud when her research won 3 awards- Best clinical science poster at 6th NUS-NUH ASM, Poster of distinction - Dentistry section and the Best Poster Award (Junior) at 1st NHG congress. The faculty had …abstracts submitted. Dentistry had a slot in the symposium whereby Prof Chew Chong Lin, A/Prof Grace Ong and Dr Cao Tong spoke on the recent advances in Dentistry. A gala dinner was held in conjunction with the congress.
Chay Siew Han

---
President's Lunch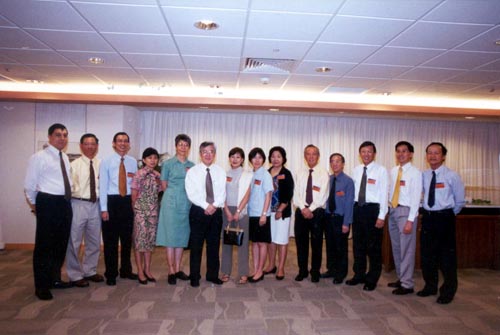 Left to right : A/Prof Keson Tan, Dr Loh Fun Chee, Dr Cheah Kim Fee, A/Prof Grace Ong, Dr Yong Siu Len, Prof Shih Choon Fong, Dr Shirley Yap, Dr Serene Chee, Dr Chan Yew Ai, Dr Choo Teck Chuan, Dr Loh Soo Ann, A/Prof Teo Choo Soo, Dr Chung Kong Mun and Dr Seow Onn Cheong
An annual affair whereby the alumni members are invited to lunch with the President and Vice Chancellor Shih.
---
BDS 1972 Reunion Dinner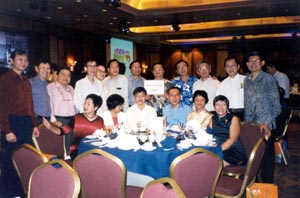 Almost half the cohort for Dentistry attended the NUS 30th Anniversary Dinner for the class of 1972

After a month of frentic emails, telephone calls and correspondence to Hong Kong, Malaysia , Australia and United Kingdom, 18 classmates managed to get together for another reunion function with their Singaporean counterparts, on 22 Nov 2002. This is about half the cohort who graduated from the then University of Singapore, thirty years ago! Also, eight lecturers also joined in the nostalgic occasion with their students, some of whom they had not seen for many years. There was much jibes, exchanges and great feelings about those good old days. Yesterday once more, with vivid memories of many
happy, funny and stressful moments that seem to linger so tenderly in the minds of all those present.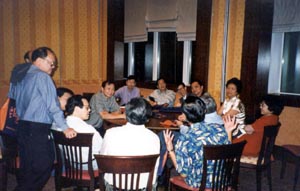 After 30 years, still yarning about those days in dental school ....
The National University of Singapore organized its biggest, and grandest 30th Anniversary Reunion for the Class of 1972, with about 600 graduates of all faculties attending the event , returning from around the world. This auspicious function (23 Nov 2002 ) was attended by most of the deans and senior members of the teaching faculty in those days, with production of video and music recordings of the songs, sights and recollections captured for posterity!! Donations amounting to about $300,000 were collected to sponsor a rotating Class of 72 Professorship. Again , this was a first !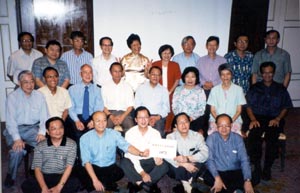 What a joyous reunion, teachers (seated) with students they taught 3 decades ago!
Prof Loh Hong Sai