Faculty 5th Awards' Day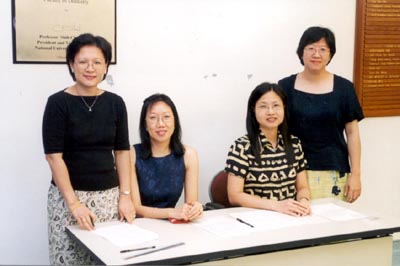 Left to right: Christine Tham (Long Service Award), Doris Wong (Merit Award), Linda Lee (Performance Award and Long Service Award) and Ek Ben Lai
This year's Awards' Day was held on 29 August 2002 at the new auditorium on level 4 for the first time. The guest of honour was Vice Provost Prof Ivan Png and the MC was Dr Winston Tan. As usual, the first two prize winners of the UROP group (supervised by Dr Varawan Sae-Lim and A/Prof Adrian Yap) presented their research findings. This was followed later by presentation of awards to the UROP prize winners, Long Service certificates, Teaching Excellence Awards, Non-Academic Staff Performance and Merit, students in the Dean's list, medal and book prizes for all the professional B.D.S examinations and the Dental Society Merit. Guests were later invited to the tea reception after the end of the ceremony.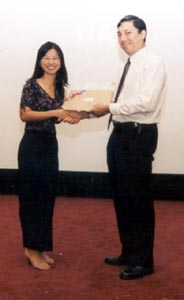 Yap Wai Yan - Best Student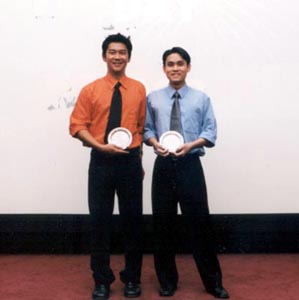 1st Prize UROP winners
Chay Siew Han

---
Fiesta At The Ridge....., OLE !!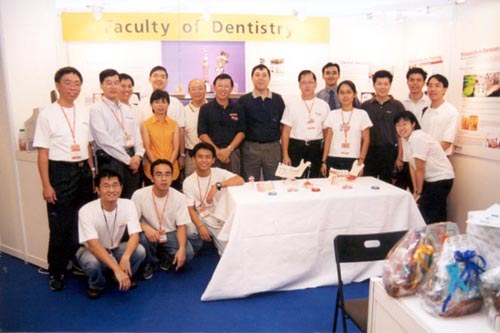 Alumni members, Staff and Students.
Once again, the National University of Singapore put on its gaiety and pompous best to welcome the graduates and students to a day of nostalgia, fun and interaction at the Fiesta ( 24 August 2002 ). The Faculty of Dentistry mobilized its staff members, students and graduates to join in this yearly extravaganza, with contributions to the exhibition, food and fun fairs and welcoming home its graduates. We did a splendid job in having more visitors to our booth, maybe due to the attraction of prizes for the "Guess the number of teeth " contest, our colourful balloons and attractive layout!! There were serious enquries from would-be students at the career talk that was conducted. Just as it was entertaining and informative for the many visitors, those of us who were there also had a great time, as we shared the values of bonding and alumni spirit , amongst ourselves , and with the rest of the university community!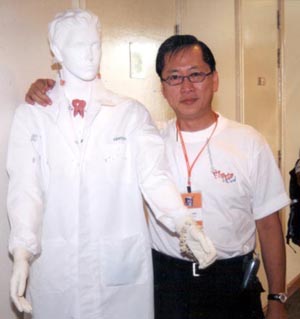 Mannequin - Dental's Mascot

Students at their stall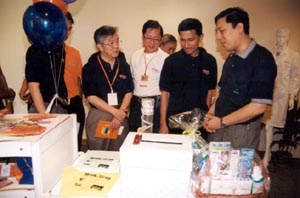 Dr Vivian Balakrishnan, Minister of State for National Development and President Shih at the Dental Booth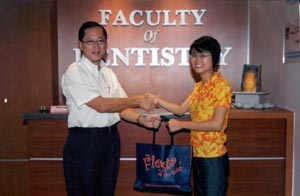 One of the prize winners in "Guess the number of teeth"
Dr Loh Hong Sai
Chairman, Faculty Fiesta Committe