Commencement - A New Beginning 2002
9 September 2002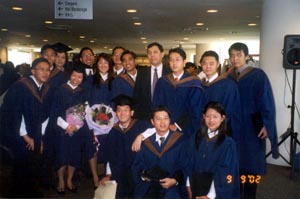 Whew! Finally we made it!
Today is a day that has been long awaited by many, graduates and parents alike. The atmosphere was filled with a sense of accomplishment and anticipation as we mark this day as a new beginning into our next phase of life. With brimming smiles and fresh faces we don the commencement gowns with our parents fussing over the slightest crease and stepping back to admire beaming with pride and joy. Indeed it was also a day for parents to finally heave a sigh of relief and rejoice in our achievement.

Treasured photo with President Nathan and wife
After a few group snapshots, we were lined up orderly to enter the University Cultural Center Hall for the main procession. Presiding over the first commencement ceremony was His Excellency President S R Nathan, Chancellor of NUS. After the playing of the National Anthem, the President and Vice-Chancellor Prof Shih Choon Fong expounded onto us that in these times, a degree was "not enough" and we needed to innovate and let forth our entrepreneur potential in order to succeed in this global economy. With that we awaited feverously for our names to be called by our dean Associate Professor Keson Tan to enter the podium. As we received our degree scrolls, His Excellency President S R Nathan greeted us with a firm handshake and a warm smile congratulating each and every one of us. The hall rained with streamers and balloons marking the end of the commencement as many of us turned around to congratulate one another. To many of us this marked the end and the beginning of the next chapter in our short existence.

---
Commencement Dinner
15 September 2002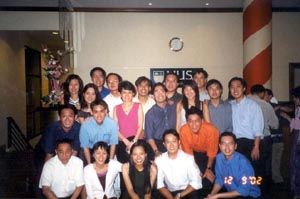 The venue for the dinner was the lobby of the University Cultural Center that was revamped akin to a hotel dinner ballroom. Starting with a cocktail reception, we awaited the arrival of His Excellency President S R Nathan and were greeted by a welcome performance of dances and fascinating music to work up our appetites. For dinner, a variety of cuisine aroused our taste buds as we savored with delight in the midst of interesting conversations and laughter. President and Vice-Chancellor Prof Shih Choon Fong address to the class of 2002 was to "break the to old, build the new - and join 'winning teams'" Marking the end of the dinner in the midst of a variety of shows including a magic show and a vibrant fireworks display, we toasted with pink champagne.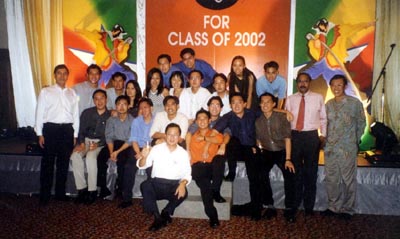 To the Class of 2002, Cheers!
To our esteemed alumni and friends, Cheers!
Michael Mah
Graduating Class of 2002

---
Visiting Professor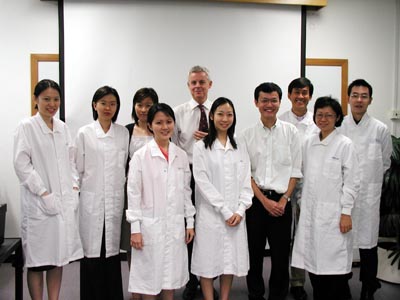 Prof Dahllof with orthodontic residents
Professor Goran Dahllof
He was here as a Visiting Professor in the Department of Preventive Dentistry, Faculty of Dentistry, NUS for 2 weeks from 5 - 15 November 2002.
He is the Professor of Pediatric Dentistry, Karolinska Institutet.
---
Overseas Dental Alumni
On a study trip to the US, A/Prof Keson Tan, A/Prof Grace Ong and A/Prof Kelvin Foong managed to meet up with some of the dental alumni members. They were:

Iowa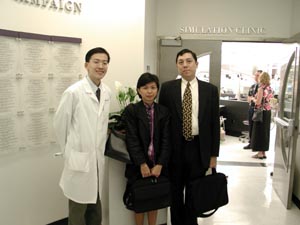 With Dr Tan Swee Chian (left) outside Simulation Clinic, University of Iowa

1. Dr Tan Swee Chian, BDS 1994 who is currently Assistant Professor at the College of Dentistry, University of Iowa. He did his graduate prosthodontic course at Northwestern University.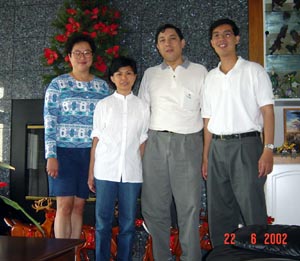 With Dr Tan Poh Hong (at far left)
2. Dr Tan Poh Hong, BDS 1979 is now retired and spending her time on a farm in Iowa. She did her graduate prosthodontic course in NUS. She was a former Removable Prosthodontic staff in the Faculty of Dentistry, NUS for approximately 7 years before she left for the US.

North Carolina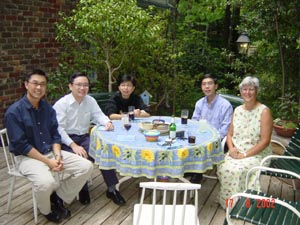 With Alvin Yeo (Left), Andrew Tay (2nd Left)

1. Alvin Yeo Boon Keng, BDS 1997 who is currently pursuing a graduate programme in Periodontics and is in his 3rd year in Chapel Hill, University of North Carolina.
2. Andrew Tay Ban Guan - BDS 1989 who is an Oral and Maxillofacial Surgeon from National Dental Centre in Singapore and is currently on HMDP in Chapel Hill.