Award Winners
This year we have a bumper crop in terms of research award winners. From local to regional competitions, the staff and students of NUS have done us proud. The winners are:
1st NHG congress and NUS-NUH Annual Scientific Meeting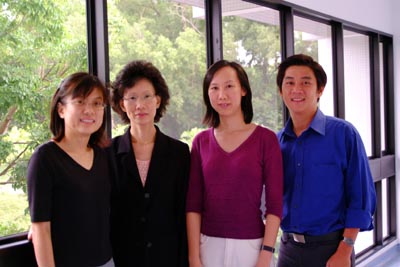 Left: Dr Karen Lam, Dr Varawan Sae-Lim, Miss Chou Ai Mei and Dr Andy Lim

Miss Chou Ai Mei, a PhD candidate co-supervised by Dr Varawan Sae-Lim, working on "Tissue Engineering of an Autogenous Periodontal Transplant for the Regeneration of the Periodontium" won 3 awards for the poster entitled 'Preliminary Studies on Human Periodontal Ligament Fibroblasts and Alveolar Osteoblasts Cultured on Foil-scaffold Constructs'
1) Best clinical science poster at 6th NUS-NUH ASM
2) Poster of distinction - Dentistry section at 1st NHG congress
3) Best Poster Award (Junior Category - all junior doctors/ researchers) at 1st NHG congress.
17th IADR SEA Division Annual Scientific Meeting in Hong Kong, Sep 2002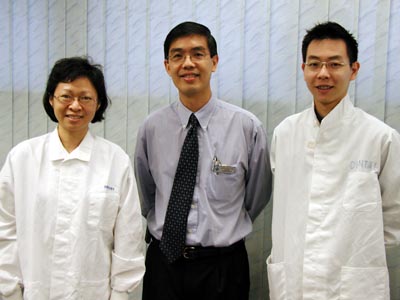 Left: Dr Ling Chern Chern, A/Prof Kelvin Foong and Dr Arthur Lim
A/P Kelvin Foong together with his MDS students, Dr Arthur Lim and Dr Ling Chern Chern were awarded the Craniofacial Biology (IADR 1995 Prize) Research Award.
Dr Tan Ban Fui, a final year Prosthodontic Resident was awarded the Charles T Kean Memorial Award.
Dr Varawan Sae-Lim was awarded the Oral Maxillofacial Surgery, Oral Pathology and Oral Medicine Research Award.
Dr Andy Lim, was in HK to present his UROP group project supervised by Dr Varawan Sae-Lim which won the first prize during the Faculty's Research Day.
Membership in Restorative Dentistry Royal College of Dental Surgeons (Edinburgh)

Dr Karen Lam, a MDS (Endodontics) from NUS won the gold medal awarded in the MRD exams for being the best performing candidate in the exams.
Chay Siew Han

---
17th International Association for Dental Research (SEA division) Annual Meeting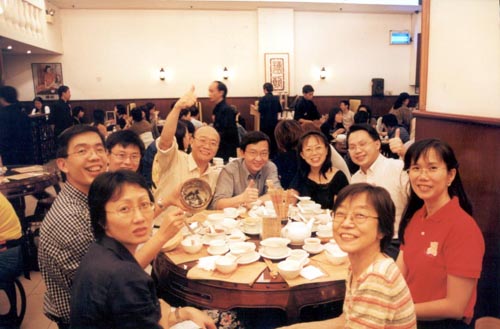 Singaporean Contingent enjoying sweet dessert
This year's IADR (SEA division) was held in Hong Kong from 17-20 September. Most of the NUS staff members attended this meeting. The first two days was the SEA Dental Education Annual Meeting followed by the IADR meeting on the last two days. Conference papers by Drs Arthur Lim, Tan Ban Fui, Juliet Tay, and Edelmiro De Hoyos were shortlisted as Finalists (23 in total) for the IADR SEA Division Travel Award Competition. There were 3 prize winners eventually with details given in the Award Winner's section in this newsletter. This conference also helped to create a closer bond amongst staff and to help HK's economy as they went out full force to savor the delightful cuisine, the shopping and the beautiful skyline of the city.
Chay Siew Han

---
Facelift for the Dean's Office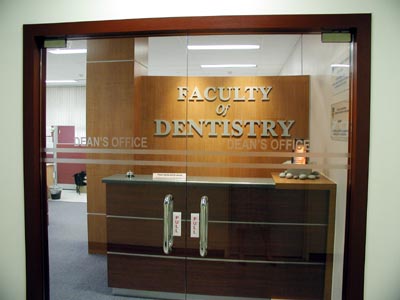 Dean's Office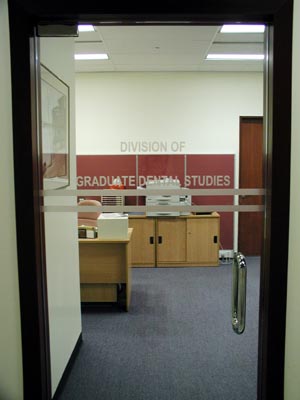 Division of Graduate Dental Studies
After sixteen long years, the Dean's Office received a major face-lift in June this year. The renovations provided much needed space to accommodate the new staff that support the HR, finance and student functions that had been decentralised from University Hall, as well as premises for the newly established Division of Graduate Dental Studies. New glass doors, a reception counter and sofas now provide a warmer welcome to visitors to the Dean's Office and DGDS. The new facilities have been well-received, and we are looking forward to the possibility of improvements being made to other parts of the Faculty.
Geoffrey Lau