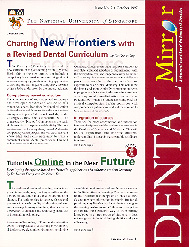 Dental Mirror Issue No.2

From the Editor
Paradigm Shift
A Chinese proverb proclaims "Be not afraid of growing slowly, be afraid of standing still". In a world of change, what is acceptable today may not be relevant tomorrow. Dramatic changes in society a are influencing the way way one is educated. The explosion of information on the World Wide Web, and the rapid spread of information technology into every facet of human activity require new skills of coping and of sieving what is essential. The very nature of dental work is also changing, from one of treating dental problems alone to that of a holistic approach in total patient care.
The way students were educated before may no longer fulfill the exacting health care requirements of tomorrow. Skills of abstraction, experimentation and lateral thinking must be developed in the future dental graduate. This has led to the development of a new dental curriculum incorporating the problem-based method of teaching. Clinical competencies are also emphasized, where students must demonstrate mastery of the subject matter and perform the clinical procedure effectively. Development of such skills requires student engagement beyond the "Spectacular" mode of learning. In contrast with traditional classroom teaching, the use of information technology in teaching will engage the student. It has the unique ability to provide the learner with the tools necessary to create conceptual linkages between and among information, and from it the extraction of knowledge.
These developments in the Faculty are important and essential. With time the quality of our dental graduates will only get better, and with it the realization of our Mission.
Dr Kelvin Foong