The School of Postgraduate Dental Studies held its 2nd Clinical Dentistry Symposium on the 30 March 1997 at the Faculty of Science Auditorium (LT31). Once again, this annual event attracted a huge crowd of 180 registrants comprising Dental surgeons, undergraduates, nurses, technicians as well members of the Singapore Dental Trade Association. This year's symposium covered a wide range of clinical topics ranging from Oral & Maxillofacial Surgery, Endodontics, Prosthodontics, Periodontics, Paedodontics. In addition, Dr Lim Yean Teng from the Cardiac Dept of the Faculty of Medicine was invited to lecture on The Medical Management of the Cardiac Patient for Dental Treatment. The other invited speakers included Prof Henk Tideman from the University of Hong Kong, Prince Philip Dental Hospital, Prof John Stamm, the Dean of the University of North Carolina and Emeritus Prof Ralph Yuodelis from the the University of Washington.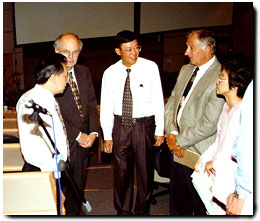 Senior Faculty Staff having a discussion with Prof John Stamm (2nd from left) and Prof Ralph Youdelis (2nd from right)
Our local speakers for the event were Dr Grace Ong and Dr Betty Mok from the Dept of Preventive Dentistry, Dr Victor Ho from the Dept of Oral & Maxillofacial Surgery and Dr Patrick Tseng from the Dept of Restorative Dentistry. A Dental Trade Exhibition was also held for the benefit of the participants. From the positive feedback received, symposiums on the practical aspects of clinical Dentistry will continue to be popular and the Faculty is presently planning to host the next one in March 1998. Look out for it!