International Award given to top dental graduate
The first prize for the 2nd ESPE International Fellowship Programme 1997 went to Dr Kwek Meaw Charm, the Faculty of Dentistry's top dental graduate from the Class of 1996. The Fellowship Programme was founded to give Asian dental graduates the opportunity to intensify their knowledge about latest developments in Dentistry and to establish contacts between Universities from different countries. To clinch this award, Dr Kwek submitted an essay on the topic "How to avoid impression failures". The first prize comprises a return airfare and conference fees for a 7 to 10 days stay in Germany including a free visit to ESPE Company in Seefeld, the attendance of a dental conference or dental exhibition, and a visit to the Ludwig Maximilian University Munich. A host of other activities will also be organised to familiarise the winner with German dental education and culture.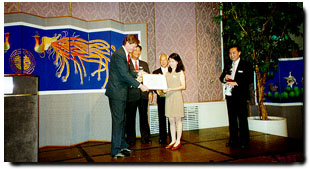 Dr Kwek Meaw Charm (2nd from right) recieving her prize from Mr Micheal Glassen, Regional Manager, Pacific.

Lee Kuan Yew Gold Medal for Best Dental Graduate in 1997
At this year's convocation ceremony, Dr Ho Kok Sen received the Lee Kuan Yew Gold Medal for the Best Dental Graduate in 1997. As a dental student, he has won numerous awards and two scholarships. This award was given in recognition of his outstanding achievements in his undergraduate days.

Postgraduate Orthodontic Student wins Research Prize
A research paper presented by Dr Chew Ming Tak and Professor Andrew Sandham secured one of the three prizes of the Scientific Poster competition held during the National Dental Centre's Clinical Symposium. The poster presentation is a culmination of the hard work put in by Dr Chew on his Master's thesis entitled "An Assessment of the Provision of Orthodontic Treatment using Occlusal Indices."

Teachers awarded Membership Diplomas of Royal College of Surgeons of Edinburgh
At a presentation ceremony held in Singapore on 5 August 1997, Dr Kelvin Foong, Lecturer in the Department of Preventive Dentistry was presented with the Diploma of Membership in Orthodontics. Two part-time teachers of the Faculty, Drs Peter Tay and Dominic Leung were also present to receive their Diplomas of Membership in General Dental Surgery.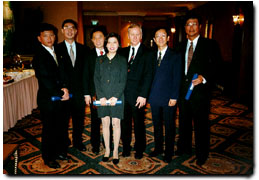 Posing after the presentation ceremony. Dr Dennis Tan, Dr Kelvin Foong, Prof Chew Chong Lin, Dr Goh Bee Tin, Prof Andrew Sandham, Dr Dominic Leung and Dr Peter Tay.

Graduates of the Faculty awarded Diploma in General Dental Practice, Royal College of Surgeons of England
After a long 12-month part-time preparatory course and a rigorous examination, some 26 graduates of the Faculty received their Diplomas in General Dental Practice (RCS England) at a convocation ceremony organised by the Singapore Dental Association on 26 August 1997. The Diplomates are :
Dr Asha Karunakaran
Dr Lam Choon En Ernest
Dr Cheah Kim Fee
Dr Koh Cheng Geok
Dr Leela Pillai
Dr Rajendram Sivagnanam
Dr Toh Joo Hua
Dr Ang Hui Kia Angeline
Dr Choo Keang Hai
Dr Koh Swee Pian
Dr Koh Tieh Leong
Dr Lee Hing Mun Micheal
Dr Liew Nam Yih Frank
Dr Lim Kwang Beng Leonard
Dr Ong Eng Chiang
Dr Ramaswamy Sreehandhan
Dr Tan Meng Kok Dennis
Dr Tang Kok Weng
Dr Choo Yeow Hui
Dr Ong Hwa Eric
Dr Shahul Hameed
Dr Tan Chin Hwee
Dr Ong Kheng Kok
Dr Yap Yi Roon
Dr Chew Teck Hong
Dr Phua Tin Cock
The award is a testimony of their commitment to continuing dental education for a higher quality dental practice.

50 years of Service in NUS
Mr Sukaimi Bin Harun, completed 50 years of faithful service in NUS. As a recognition of his dedication and commitment, he was presented with the NUS Long Service Award by the Deputy Vice-Chancellor, Professor Chong Chi Tat at a presentation ceremony in April 1997. Again in July this year, the Dean, Professor Chew Chong Lin presented a 50-year Service Award to Mr Sukaimi for his faithful service to the Faculty of Dentistry.

National Day Awards 1997
Mr Lee Ah Peow, a Senior Dental Technician with the Faculty of Dentistry, has been awarded the Long Service Medal by the President of the Republic of Singapore in recognition of his 34 years of dedicated service to the University.