Over 200 undergraduates, postgraduates and faculty participated in the Faculty's Ethics Forum on 27 Nov 2015. Ms Florence Ho, Adjunct Senior Lecturer, who anchors the Ethics programme in the Faculty facilitated the forum using a case-based, panel discussion approach.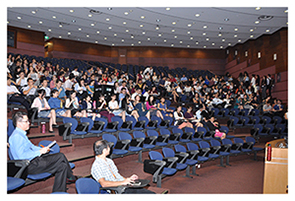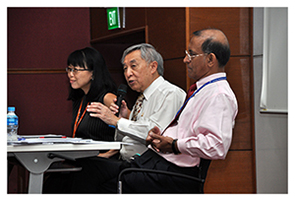 The participants learned much from the expert panel comprising Prof Chew Chong Lin in his capacity as President, Singapore Dental Council; Dr Betty Mok, Deputy Director, Clinical Services, NUH Dental Centre and Dr Vijayan Loganathan, a clinician in private practice. Pertinent issues related to dental ethics including informed consent, patient confidentiality, inter-, professional communication were discussed.
The personal sharing of clinical experiences by the expert panel made the learning authentic and helped the students deepen their understanding of ethics in clinical scenarios. The participants also had a chance to actively engage in the discussions by polling responses and posting questions through a live messaging system. The feedback from the students was positive and the majority of them found the issues raised at the forum were relevant and the discussions stimulating.
Excerpts of Feedback from students
"Some of the cases are quite interesting and they are legit scenarios we may encounter in the future."
"The facilitator and panel were very knowledgeable and engaging."
"Interesting cases and stimulating discussion, informative due to doctors' discussions."