Project Sa'Bai 2015 had two main goals - one was for the locals in Cambodia to benefit from something sustainable and the other was to enrich the undergraduates' experience and allow them to reflect on their volunteering experience.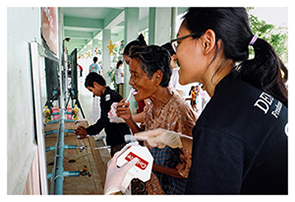 A more preventive approach was adopted for Project Sa'Bai 2015 as part of efforts to infuse sustainability in the volunteer efforts. A new topical fluoride programme was introduced in the primary schools the team visited. Students walked up to the volunteer dentists and spontaneously opened their mouths, eagerly waiting for fluoride to be applied on their teeth. Apart from the annual trips in December, there are plans to send a smaller team six months after to follow-up with the fluoride application. The team hopes to see some fruitful results in the following years.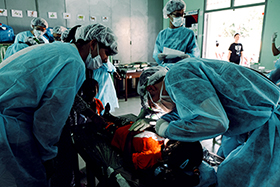 Students also conducted individualised oral health education for villagers waiting for their turn to see the dentist. Teeth were stained with a plaque-disclosing agent followed by demonstration of toothbrushing techniques. The villagers could put their newly learned skills to use as they brushed off the stains by themselves.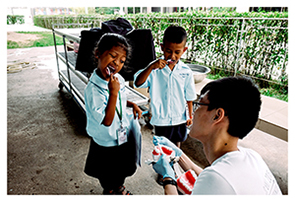 Apart from going there to serve the local community, the other goal was for the dental undergraduates to reflect on their experience and remind themselves of why they had wanted to become dentists - to help people. Perhaps after graduation they would look back at their Sa'Bai experience and realise that now, fully equipped with a specific set of professional skills, they are well poised to truly help people in need.


"This trip has left me with a renewed sense of purpose. I've been humbled by this opportunity to serve. Unlike previous mission trips that I've embarked on, this trip really made me feel that we helped the people there. It struck me that I'll soon possess a very special set of skills as a dentist and that would give me the ability to make a difference."
– Lee Su Lynn, D2
"Seeing poor villagers and children with "bombed-out" carious lesions - this reinforced my commitment to do good dentistry in the future for my patients, and focus especially on oral hygiene education. After Project Sa'Bai' 2015, I can only say that I want to do more. I hope that there will be more opportunities to do similar good in the future" - Charles Tan, D3
"Looking back, I am glad to have been given the opportunity to help organise Project Sa'Bai 2015. In many instances, I was required to step out of my comfort zone and learn how to adapt and be flexible when things didn't go according to plan. Despite the challenges, it was all worth it when I saw how much it meant to the locals we treated - no matter how basic it was." - Ong Yu Jie, D3
The Project Sa'Bai 2015 team is grateful to the Faculty for their continued support, as well as to all the sponsors and donors who had helped to fund the project. It has truly made a difference to the lives of the locals in Cambodia.
Julian Tan
Year 3 2015/2016
Chairperson
Project Sa'Bai 2015