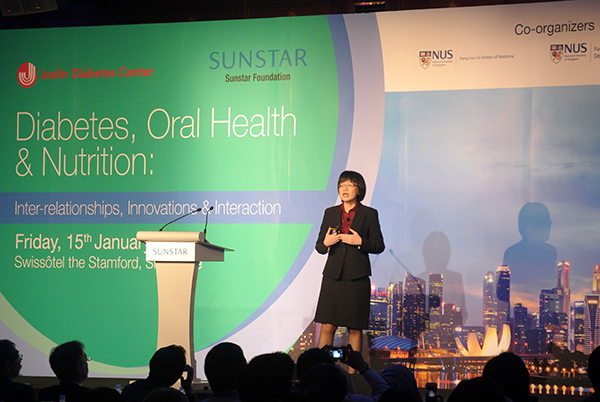 Dr Tan Kai Soo speaking at the Event
The Faculty co-hosted the Diabetes, Oral Health and Nutrition Symposium with the Joslin Diabetes Centre and Sunstar Foundation in Jan 2016. More than 410 professionals including doctors, dental surgeons, nurses, dental hygienists, nutritionists, pharmacists and researchers from across Asia attended the symposium.
A/P Lim Lum Peng (Discipline of Periodontics) and Dr Tan Kai Soo (Discipline of Oral sciences) delivered two lectures - "Diabetes and Periodontal Disease : The impact on Oral Health Care" and "Impact of Oxidative Stress on Susceptibility of Type 2 Diabetic Patients to Bacterial Infections" respectively.