The National University Centre for Oral Health, Singapore (NUCOHS) Ground Breaking Ceremony was officiated by Minister for Health, Mr Gan Kim Yong at the NUHS Tower Block Auditorium on 21 September 2015.
When ready, NUCOHS will pave the way for new beginnings of enhanced co-ordination, synergy and integration that will allow NUHS Dentistry to champion its tripartite mission of education, research and clinical service. It will continue to engage with multiple stakeholders including the dental fraternity, healthcare professionals and the community to transform oral health care for the population.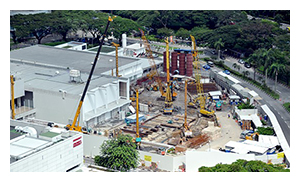 Piling work in progress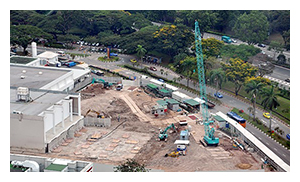 Piling work completed
In March 2016, all piling works were completed. As you pass by the site today, you would have probably noticed several towering cranes and a large megatruss being constructed to cover the existing hospital's cooling systems. Remaining excavation works and civil works on the bored piles should be completed soon and construction of the building's basement will commence subsequently. The site will only get busier as construction activities accelerate with more cranes and other construction machineries moved on site.
We are on track to operationalising the national centre in 2019.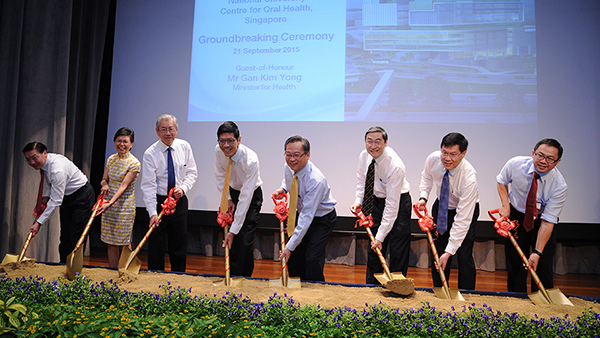 NUCOHS ground breaking ceremony

From L to R : MOH Chief Dental Officer Assoc Prof Patrick Tseng, NUS Dentistry Dean Assoc Prof Grace Ong, NUS Chairman Mr Wong Ngit Liong, NUS President Prof Tan Chor Chuan, Minister of Health Mr Gan Kim Yong, NUHS Chief Executive Prof John Wong, MOH Director of Medical Services Assoc Prof Benjamin Ong and NUHS Deputy Chief Executive (Clinical Enterprise) Adjunct Assoc Prof Joe Sim