The 12th NUS-SDA Distinguished Speaker Programme was held at the NUHS Auditorium on 20 November 2016. The Distinguished Speaker for this year's programme was Professor Alastair V Campbell, Emeritus Director, Centre for Biomedical Ethics from the Yong Loo Lin School of Medicine. He was the former President of the International Association of Bioethics and a recipient of the HK Beecher Award, a Fellow of the Hastings Centre, New York and of the Ethox Centre, University of Oxford. Professor Campbell is also the Honorary Vice President of the Institute of Medical Ethics and elected Corresponding Fellow of the Royal Society of Edinburgh.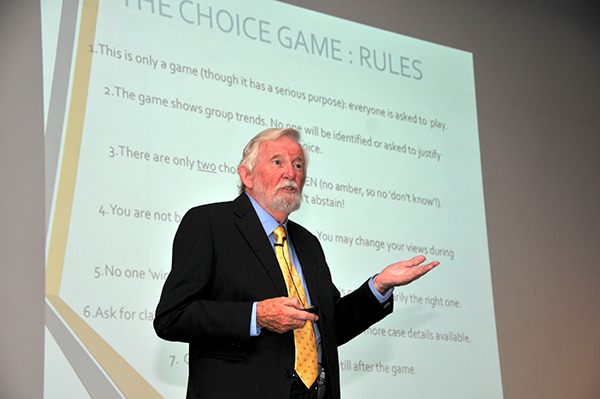 Professor Alastair V Campbell
Together with two panels of dentists and lawyers, he addressed the theme "Dentistry Dilemmas: Ethical and Legal Challenges in Dental Practice". The other speakers and panelists included lawyers Ms Sumytra Menon, Ms Kuah Boon Theng and Ms Florence Ho, as well as Dr Yip Wing Kong, a dental specialist in private practice.