Building construction works for NUCOHS are progressing smoothly.
As of June, about 75% of the building structure was completed. Structure works had reached Level 10, and by July 2017 the structural works for all eleven floors and the roof are expected to be completed. Architectural and M&E (Mechanical and Electrical) works are already ongoing. In a nutshell, the building is on track for the national centre to operationalise in 2019.

Work had commenced in February 2017 on the passenger overhead bridge connecting NUCOHS to the NUH Main Building, the Kent Ridge MRT station and a bus stop along Lower Kent Ridge Road. The passenger overhead bridge is targeted be ready for pedestrian use in early 2018.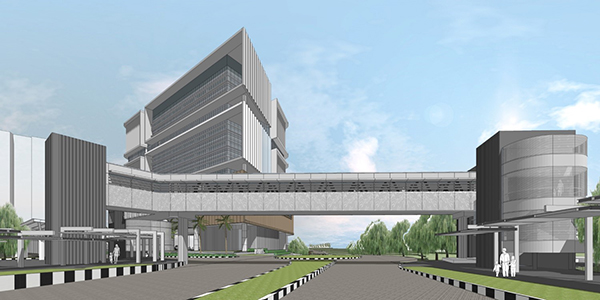 Artist's impression of the passenger overhead bridge
The NUCOHS Building was awarded BCA Universal Design Mark Gold (Design) Award in the BCA Awards 2017. Universal Design (UD) simply means "design for all people" and its main purpose is to create an environment addressing the needs for all age groups and people of different abilities including temporary disability. The annual Universal Design Award by Building & Construction Authority (BCA) initiated in 2007 serves to recognise good practices in implementing UD features, over and beyond the mandatory requirements as specified in the Code on Barrier-Free Accessibility. Deliberate efforts were taken to incorporate many special UD features within the NUCOHS building such as braille/tactile indicators on staircase handrails, step-less entry into building, designated nursing room, resting areas with adjacent spaces for wheelchair and/or baby carriage, etc.
With the completion of the building structure, NUCOHS is taking a step towards becoming Singapore's newest national specialty centre. It will focus not only on ramping up oral health services for the public – by seeing up to 500 patients a day in 2019 – but it is also well poised to be the centre for advancing oral health research and the training of next-generation dentists, where the annual graduate intake will increase from the current 54 to 80 by 2020.