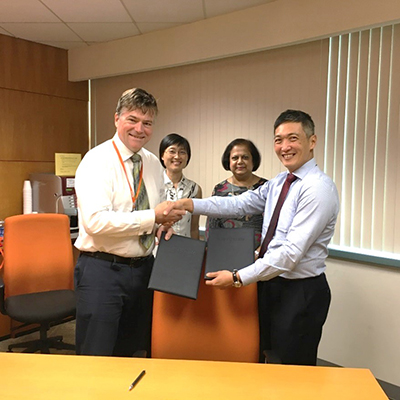 L to R: Prof Patrick Finbarr Allen (Dean, FOD), A/P Victoria Yu (Vice Dean, Graduate Studies, FOD),
Dr K Vijaya (Director, Youth Preventive Services Division, HPB), and Mr Zee Yoong Kang (CEO, HPB)
An agreement between the Faculty of Dentistry and the Health Promotion Board's (HPB) School Dental Centre (SDC) was inked on 8 December 2016 to facilitate undergraduate and postgraduate student clinical training in Paediatric Dentistry. The multi-faceted Agreement included the formalisation of the posting of final year undergraduate students to SDC to manage and treat patients.
It also gave opportunity for paediatric dental specialists under the Master of Dental Surgery (Paediatric Dentistry) to provide dental services to children and adolescents from birth to the age of 18 years at each party's clinics. A one-week observation attachment to SDC (incepted since 2014) for two Year 3 students under the Undergraduate Clinical Elective Programme (UCEP) in Paediatric Dentistry was also formalised.
To further enhance paediatric training opportunities, the Faculty will assist NUH in the administering of ad hoc posting of NUHS Paediatric Dentistry Registrars to SDC to treat children suffering from dental injuries or who require early orthodontic intervention. The Faculty is grateful for the support from HPB and for sharing its vision in the training and education of future dentists.