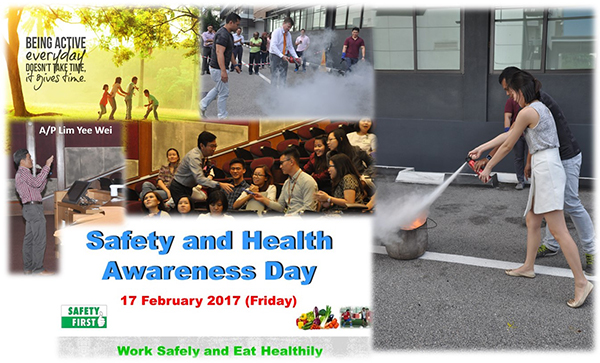 The Faculty of Dentistry's Total Workplace Safety and Health (TWSH) Committee organised its inaugural Safety and Health Awareness Day (SHA Day) on 17 February 2017 at LT27. It saw an overwhelming turnout from staff of the FOD and the University Dental Cluster (UDC) clinics.
The event's theme was "Work Safely and Eat Healthily," and its highlight was an insightful presentation by Associate Professor Lim Yee Wei from the Saw Swee Hock School of Public Health entitled, "Sit Less, Stand More!"
Using statistics, Assoc Prof Lim presented to the audience an interesting proposition to stay physically active throughout the day rather than only during a dedicated sports or exercise programme. Some of the activities proposed included the using of stairs instead of taking the lifts and escalators, using a standing desk instead of a traditional sit-down table, and combining physical with social activities. These methods ensure an active lifestyle without the rigour of sports and the inconvenience of assigning dedicated time for an exercise regime.
The other event highlight was the hands-on demonstration of using the fire extinguisher. Staff were given the opportunity to put out a fire in a controlled environment. For many, it was their first time operating a fire extinguisher and the demonstration provided them with a good learning opportunity. The staff were also assured that in the unfortunate event of a fire, they could rely on those who experienced the hands-on session to help put out the fire safely with the use of the fire extinguisher.