A/P Jennifer Neo
Pleased with the success of the first Strategic Retreat held in 1986, the Faculty mounted its second retreat at Jurong Country Club on Saturday 8th November 1997 from 1.00pm - 10.00pm.
Veering away from the concept of traditional retreats, Ms Annie Phoon, a part-time staff of the Faculty of Business Administrative and much sought after facilitator for retreat for companies and coporations, took us on a different track.
Generously donating her services, she met the staff on two seperate occasions prior to the retreat. She used the two sessions to force staff to focus on what was important, the relative importance of these outcome statements to each other and how satisfied staff was with the statements.
The rationale of this exercise was that if staff were given the opportunity to voice their 'wants', they would be more committed and feel part of the Faculty.
Armed with this information, Annie took us through a soul-searching session at the retreat working on the top 10 important outcome statements and used predictive success indicators (proposed by staff) to assess if our highly ranked needs had been achieved.
The grueling, productive, inspiring and intense session ended with staff sitting down to a well-earned steamboat dinner.
Whilst the retreat is over, its just the beginning for the Faculty as the members of four identified groups (work balance and focus, reputation of Faculty, Research and People) sit down to formulate action plans and guidelines for discussion and Faculty implementation.
As of date, all reports have been submitted and the Faculty is well on its way to implementing some of the action plans.
The Faculty wishes to acknowledge the tireless efforts and excellent skills of Annie Phoon in facilitating this retreat. Thanks Annie.

Minister for Education RADM Teo Chee Hean visits the Faculty of Dentistry on 25th November 1997

A/P SB Keng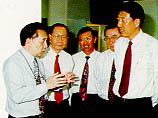 The Minister for Education, RADM Teo Chee Hean visited the Faculty of Dentistry on Tuesday 25th November 1997 accompanied by Senior Minister of State Mr Peter Chen, Vice-Chancellor Prof Lim Pin, and two DVC's of the University, together with Senior Officials from the Ministry of Education.
During his short visit, the Minister was briefed by the Dean, Prof Chew Chong Lin on the Faculty's mission and curriculum. The present and future directions of the Faculty together with the training programmes of the dental course were also highlighted.
The Minister then toured the final year teaching clinic at level 3 where he observed students treating patients. The Minister's team also had the opportunity to see the pre-clinical training facilities of the Faculty. Second year dental students have to undergo a very intensive pre-clinical technique course where they practise on simulated dental conditions on dummy heads. Only on satisfactory completion of this course are dental students allowed to manage clinical patients under very close supervision. The faculty has one of the best training facilities in this part of the world.