Faculty Website Update
by SB Keng and Keson Tan

The Faculty's website continues to be updated with new information for our readers. We have been encouraged by the positive feedback and comments from alumni and the public regarding our site. Making it more informative and enjoyable for visitors will be our aim in the coming months.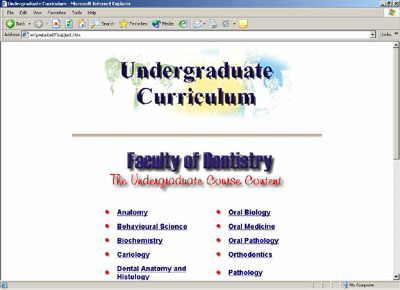 A new homepage address that is easier for all to remember and reach is now in use. It is http://www.dentistry.nus.edu.sg. It is also possible to get to our site through http://www.nus.edu.sg and clicking "dentistry faculty".
Faculty staff can now mount teaching materials on the NUS Intranet. The system called IVLE, Integrated Virtual Learning Environment, allows students to access staff lectures and other teaching materials on-line. This activity will enhance the learning environment for the students.
Some of the new interesting features includes: