Junior College Students visit the Faculty
In recent months, our faculty has played host to many students from almost all colleges in Singapore. This is in line with creating awareness not only for our undergraduate programme, but Dentistry as a profession. on 23rd May, an open house was conducted where students were given tours of the faculty and the opportunity for mingling with staff and fresh graduates to ask them about the course. The shadowing programme on the 2nd and 5th of June allowed 87 JC students to follow our own Dental students for clinical and laboratory classes, so as to get a taste of life in Dentistry. In October 98, 30 ASEAN and MOE scholars visited our faculty. The overall programme gives students a glimpse of the course and many have expressed interest in taking up Dentistry.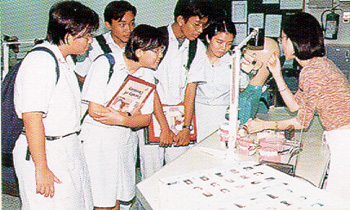 JC students given a demonstration in teaching lab 2
On 5th December 98, there will be a University open house where local JC students, Malaysian students and parents will be invited. Our faculty will play host to interested visitors so that they will be able to appreciate the state-of-the-art and comprehensive training our students will recieve if they decide on Dentistry as a career.