Freshman Orientation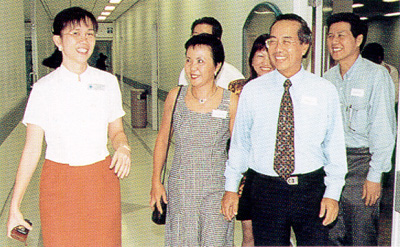 Dr Loh Poey Ling giving parents the tour of the Faculty.

Mid-July 98 was a busy period for a group of thirty people in particular. These were our incoming first year students. Over one week, in ture Dental tradition, they were subjected to a hectic orientation. Many freshman activities were organised on both faculty and campus level. A Dean's tea and a tour of the faculty was conducted on 15th July. Parents were invited and shown around the faculty by teaching staff, This gave them a chance to appreciate the intense amount of work that their children would be required to carry out over the next four years. It also was an opportunity for both full-time and part-time staff to mingle and be introduced to the students. These included staff from the Faculty of Medicine who teach many subjects in the dental curriculum.
The annual rag and flag day on the 18th of July, meant sleepless nights as previous batches of students can testify to. The miniscule size of our faculty meant that each freshman had to work harder than those in other faculties. Haowever, that has never daunted the dental spirit and they put up a good showing.
The traditional Buffet night recieved a revamp on the 27th July 1998 when it went up-market and was combined with the Faculty's Annual Dinner and Dance. Yue Weng Chue, Dental Society President explains:"It was decided to have a joint event to bring the whole dental fratenity together. We had recieved good response from students, lecturers and dentists alike. In fact, we had more than 150 attending the dinner, one of the highest numbers ever."