Faculty Research Day
The Faculty held its third research day on 5th December 1998 at the Kent Ridge Wing Auditorium, NUH. As expected, students presented interesting findings on varied topics from Sutures to Dentine Hybridisation. Leading the panel of judges in the difficult task of deciding the two representative teams was Dr Yip Wing Kong. The students who will represent our Faculty in the Asia Pacific Dental Students Association (APDSA) meeting are Indulekha d/o Rajamanickam, Lee Hwee Leng, Lim Boon Kuan, Quek Sze Lin, Tay Chih Kien, Tay Kwang Hwa and Toh Siew Luan.

4th Clinical Dentistry Symposium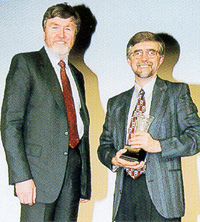 From l: Prof MacEntee ad Prof Feigal

Sunday, 28th March saw for many dentists attending the 4th NUS Clinical Dentistry Symposium. In excess of 130 participants joined the full-day event conducted by the Graduate School of Dental Studies and the National University Hospital at the Kent Ridge Wing Auditorium.
Invited speakers addressed issues from Medical Oncology to Paedodontics. They were Professor Michael MacEntee, Professor Robert Feigal, Professor Colin Smith, Drs Chua Eu Tiong and Robert Lim; all experts in their fields of speciality.
Other eminent local speakers included Drs Hilary Thean, Patrick Tseng, Loh Fun Chee and Adrian Yap.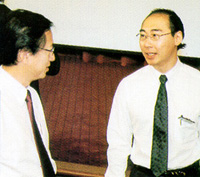 Dr Robert Lim with Prof Loh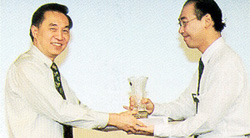 Dr Robert Lim recieving a momento from Prof Chew
Dr Chua Eu Tong recieving a momento from Prof Chew