Jennifer asked me to revive the Ortho*Band few months before the D&D. For various reasons only two of the original six members were able to participate. There was an immediate search for new talents.
I must say we were not very good during the first few practices, as all new members had no band experience. At one point we almost gave up as we felt we were not good enough.
We practised hard and finally developed confidence to perform. At the final rehearsal we were impressed with the other performers. We felt a little overshadowed by them but we knew our show must go on. My last statement to the band members just before stepping on stage was "If the audience response is not enthusiastic, there will be no audience participation".
We were pleasantly surprised by the overwhelming response. People were tapping their feet and humming to tune. We were glad that everyone enjoyed the music. We wished we could continue playing the whole night….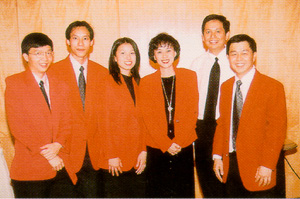 The Ortho*Band would like to thank all for the screaming, clapping and singing. We were honoured to be part of the excellent entertainment program.
Dr Loh Kai Woh
---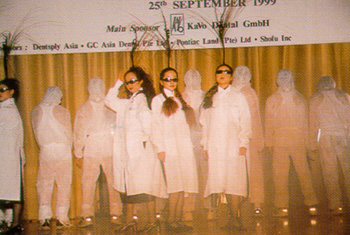 I remember it was a large group that gathered in the faculty's lecture theatre. None of us knew what to expect. Prof Neo appeared with Dr. Kaan Sheung Kin and Eng Chai, a professional dancer. We started with doing some movements in pairs not unlike what professional dancers would do to warm up. Our abilities were thus assessed! It was quite a sight and I can still remember some who had us laughing non-stop.
The laughter soon turned into groans as our practices started to stretch longer and get tougher. We had two sessions each week that lasted almost four hours each time. After a while, we even started to get on each other's nerves!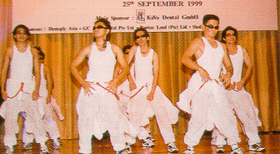 Finally, it was D-night. We were backstage during the entire dinner as the make-up was quite elaborate. We were nervous and frantic that we may forget our steps.
It was a grand entrance and I can still remember those trembling hands and wobbling legs as we entered the darkened hall with all eyes on us. It didn't help with your classmates calling your names and whistling at the top of their voices. We gave all the energy that our tired hips could harness and our shoulders could provide. In short, we gave it all.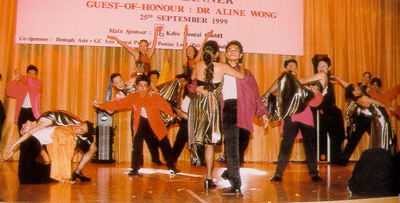 Looking back, it was a memorable experience. To this day some of us are still teased when the songs for the dance are played on radio. Among the dancers, while we were quite sick of the songs that we performed to, it will definitely bring a smile on our faces when we hear them for some time to come.
Mr Stanley Wee