Reflecting on Reflections - 70th Anniversary Celebrations Souvenir Publication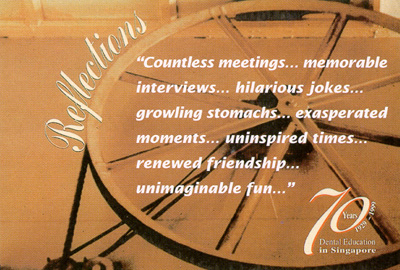 70th Anniversary Celebrations Souvenir Publication
I was approached to join the Publications Sub-Committee in early 1998. I was excited about the task at hand because I had never worked on such a large-scale publication before.
I recall the many meetings we had to drag ourselves to. An air of exasperation overwhelmed us at times especially when the publishers could not deliver a piece of work to our required standard – they must have regretted working with us, dental professionals with an eye for the most microscopic smudge on a page! Although it would be unfair to say that all meetings were so dreadful. There were some, where with amusement I discovered things, which I would not have been able to if I had not worked on the book.
I recall the eye-opening interviews I had to do for sections of the book. They provided me the opportunity to meet up with senior dentists who enriched me with their wealth of experience, insight and knowledge, which no textbook could teach me.
Fun is something one hardly forgets. I recall the many dinners the Committee used to go off to. These were probably moments we looked forward to the most. This was when the fun began, as more secrets were unfolded; more jokes were shared and most importantly – friendships were enriched as a sense of camaraderie emerged!
Looking back, the one year of hard work, perseverance, patience of the entire Committee did not go to waste – we were proud when we saw the finished work!
Dr Wong Mun Loke