70th Anniversary Celebrations - The Public Forum and Open House

Dr Lo Geok Lam, Dr Stephen Hsu and Dr Kelvin Foong
As a way to encourage the community to participate in the 70th Anniversary celebrations, a Public Forum and an Open House was held on the Sunday, 26 September 1999 at the National University Hospital. Publicity was carried out in the local media a few weeks prior to this event. Radio talk shows on topics in Dentistry were aired over FM 93.8 in the Living Room chat series, and over FM 95 for the Chinese equivalent.
The Open House started with a Dental Screening exercise. Many parents, excited and eager over the publicity, brought themselves and their charges to the Dental Centre for an evaluation of their dental health. After the screening, they were treated to a sumptuous Tea Reception at the new Kent Ridge Wing.
Fully satiated, the guests thronged to the Kent Ridge Wing Auditorium for the Public Forum. With an emphasis on dental health prevention, the theme for the Public Forum was Dental Care and Your Child. The dental health of children was addressed by speakers from paedodontics and orthodontics, two disciplines specifically involved in the care of childhood problems. The topics covered were The Early Years by Dr Stephen Hsu, The Causes and Management of some Common Dental Problems in Children by Dr Lo Geok Lam, and The Childhood and Teenage Years – What Parents Should Look Out For by Dr Kelvin Foong. When the lectures ended, many parents were at the microphones asking questions as to how their own children's dental problems could be managed. For the many parents who were at the Public Forum, it was an eye-opening and educational experience for them.
Dr Kelvin Foong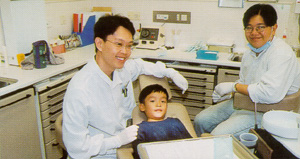 Dr Henry Ho treating a participant