If you have been by the Dental Centre, NUH, on any Saturday afternoon this year, you would have found it open and filled with elderly patients. These are the beneficiaries from the Lion Befrienders receiving their dental treatment by staff and students of the faculty. This is the newly-launched community service project of our Faculty and the National University Hospital. We have teamed up with the Lions Befrienders, a voluntary group who provides services to about 2000 elderly living in the community. With 1999 being the year of the elderly, this seems the appropriate group of people to target.
The elderly are provided free basic dental care, usually removable prostheses, simple restorations, scaling and minor oral surgical procedures. There has been much heartwarming support from 41 clinicians (both full-time and some part-time academic staff), all 140 dental students and volunteers from the nursing staff, technicians and administrative staff who have devoted their Saturday afternoons to this cause since the clinic began. Since we started, we have screened about 230 patients from 11 constituencies. Of these, 169 (77%) persons required treatment. 57 (34%) patients have completed treatment. Another 112 (57%) patients are still undergoing treatment. We hope to complete treatment for these remaining patients by the first quarter of 2000 and we will begin screening more elderly persons from other constituencies.
Mr. Abdullah Tarmugi, Minister for Community Development, officially launched this community project on 20 November 1999. The Faculty is glad that it can play a role in providing a service for the needy elderly. We would like to take this opportunity to thank staff, our part-timers, students and all volunteers who have taken the time to support this project. Many thanks to everyone!
A/Prof Grace Ong
---

Faculty Award's Day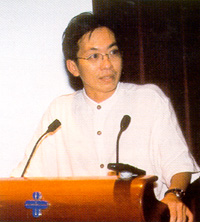 Mr David Lim
The second Faculty Award's Day was held at the Kent Ridge Wing Auditorium on the 30th of August with DVC Chong Chi Tat as guest of Honor. In addition to members of staff from other faculties, proud parents were also present to see their children receive prizes. A significant addition to the programme was a motivational speech by our special guest, Mr David Lim. Mr Lim is best known for leading Singapore's first Mount Everest Expedition, which succeeded in placing two members on the summit of the highest peak in the world. With the aim to inspire his audience to new heights, he used examples and breathtaking photographs from the expedition, illustrating the need for single-minded determination in achieving goals.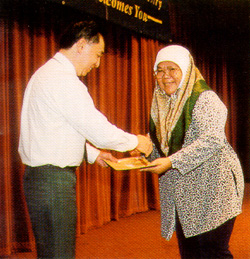 Mdm Jamanah Binte Ahmad recieving her award from Prof Chew
Numerous awards were handed out that evening. The contributions of many non-academic staff were recognised with performance and merit awards. Our students though, were the main focus of the ceremony with the two winners of the Undergraduates Research Opportunities Programme (UROP) presenting their research. Incidentally, one of the groups managed to clinch the third prize at the recent APDSA conference. Students who made the dean's list as well as book prize and medal winners were rewarded for hard work. Sporting excellence was also recognised with colour awards presented to our sportsmen.
Fresh graduates who successfully completed the GPM course were presented their certificates, as the Faculty took the time to reward its members for a job well done.
Awards given to staff:
Performance Awards
Ms Teng Wey Fong
Mrs Maria Quan Lee Lang
Ms Ng Chor Eng
Mdm Navammaal Vadivale
Ms Roznawati Binte Kamsuri
Merit Awards
Mrs Doris Wong
Mr Lai Yong Lin
Mr Sukaimi Bin Harun
Mdm Jamanah Binte Ahmad
Excellence in Teaching Awards
A/Prof Grace Ong
Dr Winston Tan
---

Faculty Research Day 1999
The Faculty held its 4th Research Day on Friday, 26th November 1999 at the CRC Auditorium, Faculty of Medicine. Student's presented interesting findings on topics ranging from halitosis to wisdom tooth surgery. The panel of judges comprised Prof Jan Huggare, A/Prof Keng Siong Beng and Dr Chung Kong Mun. Vice-Dean of Research, A/Prof Jennifer Neo, in her opening address, remarked on the increasing number of student projects published in international refereed journals, as well as our students winning the third place in the previous APDSA meeting. Students who will represent our faculty in the next Asia Pacific Dental Students Association meeting are:
An in-vitro comparison of the accuracy of apex finder A.F.A and Root ZX Ng Keng Howe, Tsumain Tan, Mavis Tan and Ong Teng Sin
The effect of antimicrobial mouthrinses on the prevention of alveolar osteitis and postoperative infection following mandibular third molar surgery. Marlene Teo, Jolene Lau, Ng Sin Hwee and Jacqueline Goh with A/Prof Yeo Jinn Fei as supervisor.