Apart from the apparent contradiction of terms, the Faculty of Dentistry bade farewell and welcome to two Professors in Orthodontics.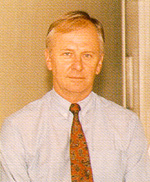 Prof Andrew Sandham
In his four and a half years at the Faculty, Professor Andrew Sandham's friendly disposition and strong academic credentials has made him a very likable teacher. Since joining the Faculty in April 1995, he has been a driving force in raising the international status of the NUS Orthodontic Postgraduate Programme. As the Chairman of the programme, he has mirrored the postgraduate orthodontic curriculum after the ERASMUS programme, widely adopted as the gold standard for orthodontic training in Europe. This puts our training standards on par with European Institutions.
In addition, his one main interest, other than a host of academic ones, is the stock market. If anyone wanted a comprehensive course in this field, Prof Sandham was most able to assist. In September 1999, Prof Sandham retired from full-time academia. Many of us will miss his company, his enthusiasm and keen mind. But honestly, I can't imageine Prof Sandham retiring completely. With more time on his hands nowadays, he is moving around the globe pursuing some of his favourite initiatives. All the best to you Andrew!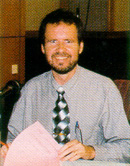 Prof Jan Huggare
To prevent a vacuum in the orthodontic leadership, the Faculty is therefore very pleased to welcome Professor Jan Huggare from Stockholm, Sweden on the 12 July 1999. Prof Huggare, a Finn by birth, holds the Chairmanship of the Orthodontic Department at the Karolinska Institute. He brings with him a strong research background to the NUS postgraduate orthodontic programme. Besides his academic abilities, Prof Huggare is also an established concert violinist, having played for the Dunedin Symphonic Orchestra during his previous sabbatical in New Zealand. Since coming to Singapore, he has taken a liking to the culturally distinct foods of Singapore, like curry and chicken rice. Sometimes, one can even detect a bit of Singlish! From all of us in the Faculty, we warmly welcome Prof Huggare and his family and trust that they will have an enjoyable and enriching time in Singapore.
Dr Kelvin Foong