Message From the New Dean


A/Prof Keson Tan, Dean
The Faculty of Dentistry strives to be a leading international dental institution in Teaching, Research and Clinical Care. We have a talented and committed clinical faculty and have been well supported over the years by a large corps of dedicated part-time clinical teachers from the profession.
The New Millennium brings with it untold new challenges. The only thing that will be constant is Change itself. Vice-Chancellor Professor Shih Choon Fong has challenged NUS to reinvent itself as a new Global Knowledge Enterprise. We intend to create new knowledge and continue to produce graduates who are not only clinically competent but who will be able to stay relevant in the New Economy.
How will we achieve this ?
The Faculty will be an institution where intellectual honesty and the pursuit of knowledge for the furtherment of the Science and Art of Dentistry is paramount. Constant intellectual stimulation, the nurturing of academic talent and the free intercourse of ideas will be the hallmarks of the Faculty in the new millennium.
We will promote a tone and atmosphere of free exchange of ideas. In this atmosphere of learning and inquiry, all students, undergraduate and postgraduate, should ask WHY and not HOW - and do so without fear of ridicule. The only foolish question was the one that was left unasked. We will equip our graduates with the analytical and thinking skills to be independent life-long learners and to allow them to continually maintain their professional skills and imbibe new science and knowledge.
Intellectual self honesty leads to constant reflection on one's actions; allowing one to maximize all learning opportunities and construct mental models of knowledge domains. For example, by examining one's failures and complications as soon as they are encountered in clinical practice, this attitude of constant reflection acts as a in-built mechanism for learning and application towards ongoing professional improvement.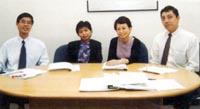 Deanery (L-R): Dr Kelvin Foong, A/P Grace Ong, A/P Jennifer Neo, A/P Keson Tan
The Faculty intends to grow and keep pace with the challenges of the new millennium. We intend to remain relevant and a leader in dental education and training not only at the undergraduate level but increasingly so in the areas of postgraduate specialty programmes, the provision of quality Continuing Education (CE) to the dental profession and to lead in the dental research arena.
With recent major initiatives for Biomedical Sciences Research in Singapore, the Faculty is poised at the dawn of an exciting new era. New research infrastructure is being planned and the Faculty looks forward to dedicated research facilities for basic dental sciences.
However, it is our strong belief that this in itself is insufficient. The Faculty requires the right software to function and grow. First and foremost, we value each and every individual in the Faculty. Students, Faculty and Staff working together towards the Faculty's Mission make a Winning Team. Only as a Team, working together, will we be able to move forward at an ever increasing pace. Each individual will be encouraged to grow to fully realise his or her potential. The Faculty cannot do all this without the commitment and support of all concerned - from clinical and technical support staff, administrative staff, students, teaching faculty and alumni.
I invite all alumni and supporters of the Faculty to join us in meeting the challenges that lie ahead.
Associate Professor Keson Tan
Dean