NUS Outstanding Educator Award: Interview with A/Prof Lim Lum Peng
Lim Lum Peng (LLP) an Associate Professor in Periodontics won the prestigious NUS Outstanding Educator Award for the academic year 1999/2000.
This award is given to a select group of NUS staff who excel in teaching, and who have been identified by their colleagues and students as deserving of special recognition.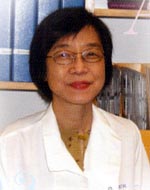 A/Prof Lim Lum Peng
Q1: Congratulations Lum Peng! How was your feeling when you were selected as the educator of the year?
LLP: I was very pleased and honoured to be given this award. I have tried my best over the years to improve upon and develop on my teaching to enhance students' learning. It is very rewarding to feel that these endeavours are being recognised. However, I would like to emphasise that there are many good teachers in the faculty who can be well-deserved recipients of such an award. I hope in due course, these teachers too will be recognized for their efforts.

Q2: Could you let us know a bit of your background?
LLP: I graduated with BDS from the then University of Singapore in 1974. I received my postgraduate degrees in London ( Dental Public Health and MSc in Perio) and later my PhD from the University of Hong Kong. I have worked as Dental Officer in Government service in Malaysia, General practice in London and Australia and I have taught in NUS and the University of Hong Kong. The varied working experience has widened my outlook beyond the boundaries of dentistry both locally and abroad, I get to see the 'real world' versus the 'near ideal world' in dental practice. The experience I valued and enjoyed most is in teaching. I spent a total of 18 years in academia.
Q3: What is your secret to your success of being a top educator?
LLP: I do not think there is any secret, I am deeply humbled by being given this award.
I think an important point is no matter what profession we are in, we should enjoy our work with a desire to learn as well. Being enthusiastic and dedicated is one step towards success. Being a good educator does not only mean having good presentation skills, although this is a definite advantage. Some of us who do not have this gift of the gab, we have to learn it the slower way like the tortoise and the hare story. For those of us who may require taking more time than others in preparing our lessons/programme, it clearly demonstrates our perseverance and not an inadequacy. I believe I am one of those who belong to this category. As the saying goes 'Practice makes perfect'. I also believe that no matter how experienced a person is, there is always something we could learn from others.

Q4: Who was your greatest inspiration and why?
LLP: There are several teachers/ colleagues who have inspired me over the years. One of the best lessons I have learn to appreciate is to give encouragement and praise to students and colleagues. As an undergraduate, I always remember one of my professor's comments: ' You can never do more than your best'. As a postgraduate, my supervisors have reiterated the same thoughts, I remember clearly the comments from my course director before the exam' What we hope you would achieve is more than just a pass'. I think we should recognise each individual has different talents and capabilities; we should build on his strengths and improve upon his weaknesses. It is perhaps true to a certain extent, that in our Asian culture, we tend to be more reserved in verbally expressing acknowledgement of work well done. I received very valuable experience when I was at the University of Hong Kong, I learnt to be more encouraging to students under appropriate circumstances. I was also very inspired by the dedication of colleagues in putting up an innovative teaching programme. I was indeed very encouraged to receive a letter from my former boss at the University of Hong Kong who happened to have read the NUS campus news and knew about my award with the following comments: ' I am delighted... I am sure the award is well deserved for a teacher with your dedication... Very well done, it is a pleasure to see your progress'.

Q5: How is the mode of teaching now compared to last time?
LLP: There is a shift towards more interactive learning like PBL, discussion and
evidence-based dentistry. The teaching paradigm has shifted from one that focused on teaching to students' learning outcomes. With the explosion of knowledge through IT, there is easier access to information, we expect more from students in terms of application of knowledge and evidence-orientated approach. Co-operative learning is one aspect that needs to be further addressed.

Q6: How are the students now compared to last time?
LLP: I believe students should be more independent in their learning and less reliant on teachers and notes. On the other hand, the reverse is true at times, the moment one finishes a lecture, the first request students often ask is for a copy of the power-point slides. I believe we should strike a balance between the two. Students are 'exam-smart', they are quick to realize by now even the way examination questions are set are different, usually it requires some form of reflective thinking. In fact for myself I have changed my teaching philosophy from one of spoon-feeding to more interactive mode of learning.
Q7: What is the greatest challenge in your career up to now?
LLP: My greatest challenge and perhaps one of my dreams is to design a programme with a holistic approach that allow students to develop to their fullest potential in clinical, didactic and interpersonal skills. My next challenge is to develop a postgraduate programme with the same objectives but set at a different level of expertise. I would also like to explore further on assessment methodologies.

Q8: What would your advice be to your current colleagues and to the budding academicians-to-be?
LLP: I think all of us learn from each other, whether senior or junior in status. Being in the Peer Review Committee, I learn to appreciate this aspect even more. I can honestly say I have learnt practical tips of teaching from both senior and junior staff. I also find attending education related courses useful and refreshing. I have attended many courses over the years, I have enjoyed all these courses as there was always something I could learn from others. I find mixing with staff from various disciplines/professional background enlightening, it helps to broaden our outlook on different approaches to teaching and learning.