Visit to Karolinska Institutet, Stockholm, Sweden
A memorandum of understanding (MOU) was signed between NUS and Karolinska Institutet (KI), and the Faculty of Dentistry and the Institute of Odontology at Karolinska, on 21 August 2000. The emphasis for this joint effort is largely research especially in the area of life sciences. With this mandate to further develop the linkages, the Dean, Prof Chew Chong Lin and the Vice Dean for Research, A/Prof Jennifer Neo visited the Institute in October 2000.
Following that, 2 staff of the Faculty of Dentistry, Dr Chay Siew Han and Dr Winston Tan visited KI to try to develop research collaboration.
Below is a personal account of Dr Winston Tan's visit to Karolinska Institutet whereby he spent a month exploring research options there…..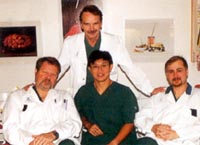 Dr Winston Tan (centre, sitting)
Cold, dark and desolate was my impression of Sweden despite the friendly face of Professor Jan Huggare that greeted me at the airport. With a temperature ranging from a high of 4 degrees and dropping to a frosty minus 20 degrees Celsius, Stockholm in the winter seemed very inhospitable, to say the least. Five to six daylight hours were all the allotment you got, and snow. Snow was great, followed by ice and rain, lots of that - not so great.
Didn't speak the language. Six weeks in Sweden, divided between the lab and the clinic - sounded like fun…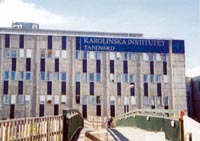 Lab work. Didn't I spend most of my youth trying to avoid it as much as possible? Here I was, right in the middle of a masochist's dream, doing lab work, completely against the grain of the clinician in me. Was looking forward to the exciting bits of clinical and operating theatre time interspersed within the programme. Lots of TMJ surgery, orthognathic surgery and of course, what the Swedes were famous for (other than IKEA and Volvo) - implantology.
Lab work. It couldn't be that difficult. Just like following a recipe from a cookbook, mix this with that, put to simmer - thank you, voila! and all that. Anyone could do it if they watched far-flung Floyd. Immunohistochemistry, in situ hybridization, polyacrilamide gel electrophoresis and everything else with more than four syllables, piece of cake!
Lab work. Humbling. Struggling with the results. Polymerase Chain reaction, RNA extraction, pipetting, titration, repeating, frustration. Help from colleagues, lots of it, needed it, got it… The Lab culture was special and remarkable.
Lab work. Interesting? Exciting? Never thought I'd say it, but the intellectual challenge was extraordinary.
The limitless clinical applications and the ability of basic science to change the way we do (or not do) surgery is often grossly underestimated. Bursting with ideas. Can't wait to try them all out. Lab work and Sweden are great! What? Time to go home?
Will be back. Maybe this time in summer…
Author's Note:
Winston Tan spent January to February 2001 at the Center for Oral Biology (Karolinska Institute), Department of Oral and Maxillofacial Surgery (Karolinska Institute), Specialist Clinic for Dental Implantology (Sweden) and the Cleft Lip and Palate Center (Helsinki, Finland). He would like you to believe that he did lots of molecular biology, basic science work, surgery and very little sightseeing. He will continue research into bone proteins and growth factors in collaboration with the Karolinska Insitiute and hopefully do something useful with his life - eventually.