Diary Highlights
Faculty Website Revamp
http://www.dentistry.nus.edu.sg/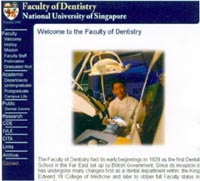 The Faculty's website has been completely revamped with a new fresh look and feel for the new millennium. In keeping with the theme " KITS " Keep IT Simple, we have designed the site for faster access and a "Two Click " principle to reach most pages.
We have been encouraged by the positive and useful feedback from our readers and alumni to make the site more enjoyable and informative. The homepage has a new look, which is neat and has the main links on the side for easy reference. Intending new students and postgraduates can easily access information on entry and course requirements and handbooks. For research students a new page has been added with complete information on how to enroll for Masters and PhD programs.
Some New links of interest include
- Research page
- CDE, lists all continuing education lectures / talks which are updated weekly
- Course Modules
- External Links to useful sites of professional organizations and Dental Schools
- Archives page.
- IVLE (Integrated Virtual Learning Environment) of Dental Courses on Intranet.
Our roll of Graduates link
http://www.dentistry.nus.edu.sg/faculty/roll/rollmain.htm which lists all our past graduates from 1933 to year 2000 remains as popular as ever. To all our alumni why don't you check it out. Can you remember all your classmates?
As web technology is changing so rapidly, our web team will continue to use it to enhance the Faculty's website when appropriate. Happy Surfing!
A/P Keng Siong Beng
Chairperson Faculty IT/ET committee
Mr Tok Wee Wah
CITA

---
Dinner & Dance 2000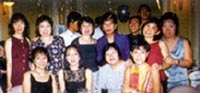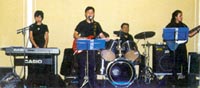 The millennium party of the Dental Faculty was celebrated this year at the Goodwood Park Hotel's Tudor Ballroom in true Vegas Style. Decked in silver and gold balloons, with tables named after royal flushes, it certainly set the mood for a wonderful night ahead. Everyone rose to the occasion and came dressed in their best. Kenji, our emcee, had the pleasure of getting the night going with our very own Ortho Band, led by none other than Dr Loh Kai Woh. Prof Chew Chong Lin surprised everyone with a song of his own. Living up to expectations once again, Dr Kaan's experimental dance mesmerized everyone as the junior year dancers swirled about on stage, whilst the audience's imagination ran wild. There were games galore throughout the night, with the scavenger hunt turning up quite a few raunchy items, as well as lucky draw with fabulous prizes being given out. Top prize of an MP3 player went to Nora Heng of final year. Old friends reminisced the past, new ones were made and the dental community became closer that night. Dinner came and went, but the spirit lives on…
Shawn Goh Siak Shyong
Poon Kee Hwang
Yr 4 Students
---
Visiting Professors
1. Professor William Davidson
He was here as a visiting professor in the Department of Preventive Dentistry, Faculty of Dentistry, NUS for a month from mid October- mid November 2000.
He is currently a Professor and Chair of Department of Orthodontics at the University of Maryland, USA in Baltimore. And he holds the Dental Chair of the Operation Smile, USA which is involved in cleft care missions in third world developing countries.
2. Professor Malcolm Harris
He is currently here as a visiting professor in the Department of Oral & Maxillofacial Surgery, Faculty of Dentistry, NUS for one year from 30 October 2000- 31 October 2001.
He is the Emeritus Professor of Oral and Maxillofacial Surgery at the University of London.
3. Professor James Wefel
He was here as a distinguished visiting professor in the Department of Preventive Dentistry, Faculty of Dentistry, NUS for a month from mid May -mid April, 2001.
He is the director of the Dows Institute for Dental Research and the Center for Clinical Studies of the College of Dentistry, University of Iowa.
---
Cruise on Virgo Superstar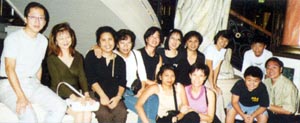 The highlight of last year's activities organised by the Welfare, Sports and Recreation committee was the SuperStar cruise held in September. It was an awesome 3days/2 nights cruise for the over fifty of us who went on board. The 76,800 ton ship was a spectacular view with its grandiose interior decor . Everyone of us had a sheer good time enjoying ourselves with all the facilities of dinning pleasures, fun games, and non-stop entertainments . For those in the Faculty who had missed out this experience, I would like to encourage them to join us in our next outing.
Dr Lo Geok Lam,
chairperson of the Welfare, Sports and Recreation committee
---
Obituary
Dr Lau Kieng Hiong
BBM, JP, LDS, HON. LLD, FICD, FRSH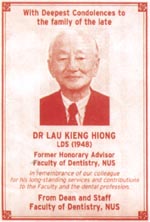 The demise of Dr Lau Kieng Hiong on 10 March 2001 was a great loss to all his friends and colleagues who had the privilege to know and work with him before. Although he had a successful and busy private practice, he still managed to hold a colourful portfolio which included being the first university part-time lecturer, Justice of Peace and serving various committees in the dental profession, the Alumni Association, the University of Singapore, Nanyang University and the National University of Singapore. He was the first president of the Singapore Dental Association and was conferred the honorary degree of Doctor of Laws in recognition of his tireless effort and time to the University of Singapore.
Dr Lau was a very caring and sincere friend with a wealth of knowledge and wisdom. Therefore, he was always "hijacked" whenever he walked the corridor of the Faculty of Dentistry to listen, advise and help all the helpless souls who needed his help.
To Dr Lau Kieng Hiong, your loss will always be felt and you will always remain in our hearts!