COMMENCEMENT MESSAGE
BDS 2001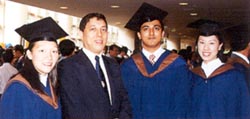 Graduands with A/Prof Keson Tan. Dean
To the Graduands in the Degree of Bachelor of Dental Surgery, Class of 2001 …..… My heartiest congratulations !!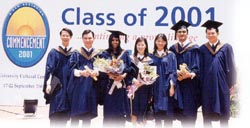 Today, you will join the ranks of Healthcare Professionals in Singapore …….. Welcome ! ….. to the professional fraternity of Dental Surgeons.
Your class represents the first batch completing the full 4 years of the New Competency-Based Curriculum. You have worked hard for four years - acquiring the Professional Knowledge, Clinical Acumen and most importantly, the Thinking Skills that will equip you for the Practice of Dentistry in this New Millennium. Indeed, the measure of our success in training you …… is the extent to which we have been able to instill in you, …. the ethic of Independent Life Long Learning.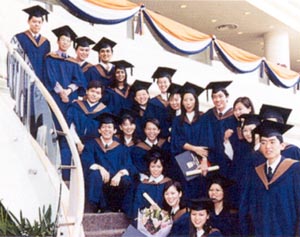 The NUS BDS Course has strove to produce scientifically orientated, clinically competent and socially sensitive Dental Surgeons. The ideals and attitudes taught while at university, will serve you well as you journey down the road that you choose, ..…... be it in private practice or in an institution, …….. whether it be as a general practitioner or as a specialist.
The Nation has provided the resources that has trained you - Remember the debt that you owe to Society and to the Nation.
Today, you embark upon the first steps of your professional career …. which will demand high standards of proper patient care and clinical management. There will be many demands on your judgment; and you may even be faced with situations that will challenge your professional integrity and ethical standards.
A Golden Rule that you can apply when you are faced with such difficult situations in your Professional Life is to … Put the Patient's Interest Foremost . By following this Principle of Putting your Patient's Interest Foremost, you will find that seemingly difficult situations will become clearer, and that your priorities will be put right. -----
From this Principle, you will see the importance of Continuing Professional Education, in order that you will be constantly updated on the Best Clinical Practices available and that you keep abreast of the prevailing Professional Standards.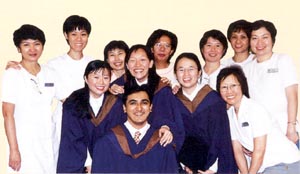 Your responsibility to patients under your care, requires that you constantly adopt an attitude of Reflection-in-Action for every case and for every clinical procedure, ……… that you are able to rationalize your every action and thus maintain a consistently high level of patient care.
The future is bright, the opportunities to develop and upgrade yourself professionally are plentiful. I wish you well in your Journey - and may you fulfill your fullest Potential.
Associate Profesor Keson Tan
Dean, Faculty of Dentistry,
NUS