FIESTA AT THE RIDGE …….Welcoming and Homecoming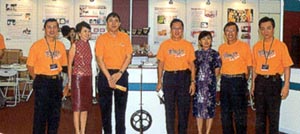 Dental Exhibition Booth
On 1 September 2001, NUS laid out a grand campus celebration that "introduced the NUS experience to prospective undergraduates, enriched the campus life of its students and re-acquainted its alumni with the University". This gala event was the beginning of the Commencement graduation ceremonies, to mark the new beginning of a life-long career for each of the graduate of the new millennium.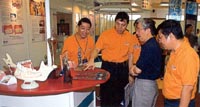 President Prof Shih touring the Dental Exhibition Booth
The Faculty of Dentistry was proud to be a part of this university community. Staff members and students turned up in great numbers and enjoyed the interaction with returning alumni. On display at our booth were posters highlighting student activities, Research projects, postgraduate courses and interesting clinical updates. We also contributed to a stall for the food and games carnival concurrently held on the floor below. The evenings were beautiful with the decorated dazzling lights lining the roads, like those on along Orchard Road during the Christmas celebrations!!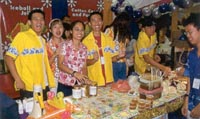 Dental Food Stall
Prof Loh Hong Sai
Chairman, Faculty Fiesta Committee
---
Dinner and Dance 2001
This year's dinner and dance (D&D) was something totally new. The theme was "Masquerade" and was held at China Jump Singapore.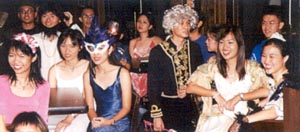 All dressed up guests...
The guests came dressed up in all sorts of costumes: From beautiful Greek goddesses to Medieval gentlemen, even cowboys and Japanese geishas.
Our talented emcees, Shou King and Madeleine of Year 2 kicked off the event with a 'Madonna' dance routine. This was followed by an ice-breaking performance by Daniel and Aaron doing a hip-gyrating 'She Bangs' by Ricky Martins.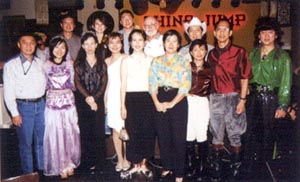 Can you recognise them?
Other exciting games followed. Prof. Loh demonstrated that age was no barrier in the Limbo Rock and later clinched the award for the best dressed guy in his scintillating Elvis costume. The best dressed female went to Kenji, president of the Dental Society, with his flamboyant Japanese geisha outfit!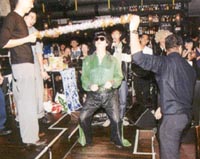 Prof Loh a.k.a. Elvis showing off his Limbo Rock
The grand finale was the lucky draw where Keith Liew (Year 4) walked home with the first prize, a Kenwood home entertainment system.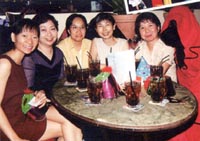 Our own pretty ladies with....
The Dental Society would like to thank everyone who made the event a bombshell of a success. Special thanks goes to all the guests who came dressed to kill.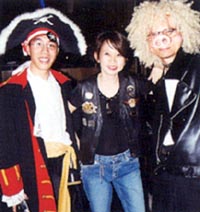 Prof Neo a.k.a. "The Biker" with her two "Bodyguards"
Masquerade 2001 will not be forgotten… till next year.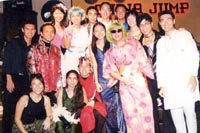 The FUNKY BUNCH who made the event come true
Aaron Tan
Year 3 Student