The NUS Faculty of Dentistry (FOD) began as a Department of Dentistry within the King Edward VII College of Medicine in 1929. It was the first dental school to be established in a British colony in the East. Today, the FOD is made up of five Disciplines – Discipline of Prosthodontics, Operative Dentistry and Endodontics; Discipline of Periodontics; Discipline of Orthodontics and Paediatric Dentistry; Discipline of Oral and Maxillofacial Surgery and Discipline of Oral Sciences – and the Division of Graduate Dental Studies. Together, they strive to fulfil the Faculty's mission of excelling in clinical care, research and education. Currently, the Faculty has an intake of 60 undergraduates students annually.
The Faculty works closely with departments in the NUS Yong Loo Lin School of Medicine and other teaching hospitals and institutions across Singapore in healthcare delivery and education. It also partners departments in other faculties of the University, public institutions and private enterprises in multi-disciplinary research activities.
The NUS Faculty of Dentistry is situated at 2 locations; its own building at 11 Lower Kent Ridge Road (at the junction between Medical Drive and Lower Kent Ridge Road) and the other at the National University Hospital (NUH).
The main FOD building is within 6 minutes walking distance from NUH. It houses the teaching facilities and clinics for the undergraduate dental students and graduate residents in the fields of Prosthodontics, Orthodontics and Diploma in Implantology. The FOD building also houses the Dean's office and admin complex together with the Academic staff offices.
The facilities at NUH provide graduate residency training in Endodontics, Periodontics and Oral and Maxillofacial Surgery. The Faculty's auditorium and ITU Office are housed at level 4 of the NUH Main Building.
The Departments of study for Dentistry are:
- Anatomy
- Biochemistry
- Physiology
- Microbiology
- Pathology
- Pharmacology
- Pharmacy
- Medicine
- Surgery
The Faculty is led by the Dean and a team of academic staff. The broad experience and specialisation of the Academic Staff allow them to provide both the Dental Undergraduates and Postgraduates with the requisite skills for dental practice.
National University Centre for Oral Health, Singapore (NUCOHS)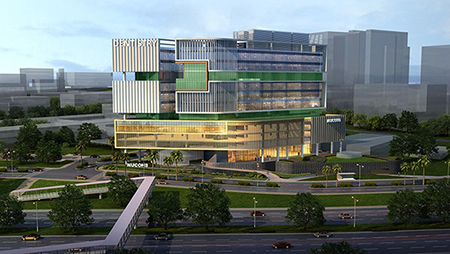 An artist's impression of NUCOHS to be completed in 2019
By 2019, the Faculty will be located in the new National University Centre for Oral Health, Singapore (NUCOHS), with clinical services, education and research facilities under one roof. Besides a broad range of dental services catering to the Singapore public, it will focus on the elderly and those with medically complex conditions. It will cater to an increased annual undergraduate intake to train more dental professionals, employing advanced simulation laboratories to promote leading-edge and experiential dental training. NUCOHS will be part of the National University Health System, which is an integrated Academic Regional Health System that delivers value-driven, innovative and sustainable health care in Singapore. Other institutions within NUHS include National University Hospital (NUH), NUS Yong Loo Lin School of Medicine and NUS Saw Swee Hock School of Public Health.