News
Faculty Awards Day 2013
The Faculty of Dentistry held its 16th Awards Day on 8th October 2013 at the Clinical Research Centre Auditorium (MD11), to honor students, staff and academicians for excellent achievements in their respective domains. This event was graced by Professor Tan Eng Chye, Deputy President (Academic Affairs) & Provost, NUS as the Guest of Honor who also presented the awards to all our prize winners. The Faculty wishes our award recipients success in their endeavors and continue to set their vision on excellence.
Prof Tan Eng Chye, Provost (2nd from left) and A/P Grace Ong, Dean, (3rd from left) with
our medal, bookprize winners and Dean's List.
The Award winners and photo gallery are as follows
Deans' List
| | | | |
| --- | --- | --- | --- |
| Year 1 | Year 2 | Year 3 | Year 4 |
| Miss Ang Kai Yuit | Miss Chua Kho Xian Sarah | Mr Chew Ren Jie Jacob | Dr Kok Xiu Ling Florence |
| Miss He Shuping Amanda | Miss Jasmin Ng Ka Weng | Miss Chuang Cheah Ping Janice | Dr Tan Keng Wee |
| Mr Peter Setiaoetama | Miss Lee Ker Jia Cheryl | Miss Hor Kang Li Jocelyn | Dr Lee Pei'En |
| Miss Tan Li Wen | Mr Neo Tian Cheng | Mr Tan Wei Jun | Dr Lim Jing Loong Benjamin |
| Mr Wei Mingrun | | Miss Thio Yan Li Nicole Agnes | |
NUS Undergraduate (Merit) Scholarship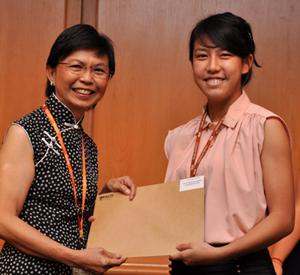 A/P Grace Ong, Dean, presenting the award to Sandra Chen Ming Shu

Medals and Bookprizes – 1st, 2nd,, 3rd & Final Professional BDS Examinations
| | | | |
| --- | --- | --- | --- |
| First BDS | Second BDS | Third BDS | Final BDS |
| Mr Wei Mingrun | Miss Chua Kho Xian Sarah | Miss Hor Kang Li Jocelyn | Dr Kok Xiu Ling Florence |
| Mr Brendan Lee Aik Jin | Miss Ishreen Kaur Dhillon | Miss Chuang Cheah Ping Janice | Dr Lee Wei Zheng Joshua |
| Miss Tan Li Wen | Miss Jasmin Ng Ka Weng | | Dr Toh Shi Yun |
| | Miss Lee Ker Jia Cheryl | | Dr Tan Keng Wee |
| | Mr Lo Zheng Xiang | | |
| | Mr Neo Tian Cheng | | |

UROP Winners
| | |
| --- | --- |
|  Second | First |
| Dr Sha Yang | Dr Liang Shuli |
| Dr Tan Ying Rui | Dr Phoon Miao De Gerald |
| Dr Toh Shu En Michelle | Dr Tan Keng Wee |
| Dr Toh Shi Yun | Miss Lee Xun Qi Nicole |

TRICE Award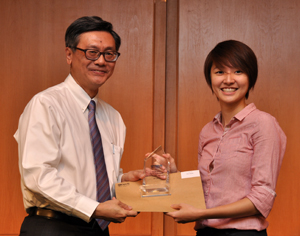 Prof Tan Eng Chye, Provost, presenting the
award to Dr Lin Yi

Faculty Excellence in Teaching Award  2012/2013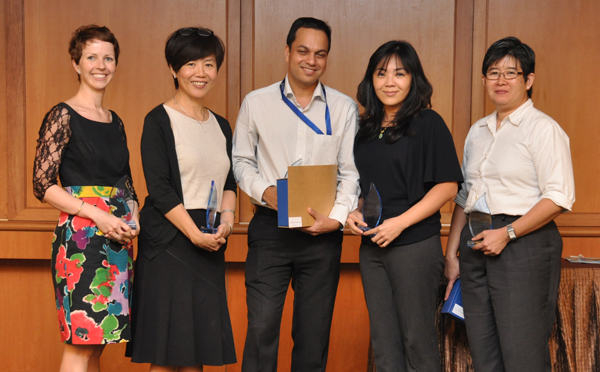 (L-R) : Dr Roxanna Jean Esguerra, Dr Tan Hwee Hiang, Dr Intekhab Islam,
Dr Wendy Wang and Dr Cheong Kim Yan
Long Service Awards
| | |
| --- | --- |
| Academic Staff | Non-Academic Staff |
| Assoc Prof Cao Tong | Mdm Tay Poh Suan |
| Assoc Prof Hsu Chin-Ying, Stephen | Mrs Ng-Tan Sok Lan |
| Dr Mok Yuen Yue, Betty | Mdm Valliamah |
| Assoc Prof Keson Tan | Mr Lim Eng Chuan |
| | Mr Ang Biang Soon |
| | Miss Tan Poh San, Catherine |
Staff Service Awards
FoD Staff Service Award 2013
(Individual)

FoD Team Service Award 2013
(Team)

Ms Choo Wei Yee
Ms Linda Lee
Ms Perina Chiang

DSSU Team
Mdm Tay Poh Suan
Mdm Kwok Yoke Ying
Mdm Ho Yoke Foon
Mr Sashi Kumar

DSO Lab & Safety Team
Mr Chan Swee Heng
Ms Han Tok Lin