News
NUHS-Mochtar Riady Pinnacle Awards - Outstanding Mentor Award 2015
Dr Betty Mok Yuen Yue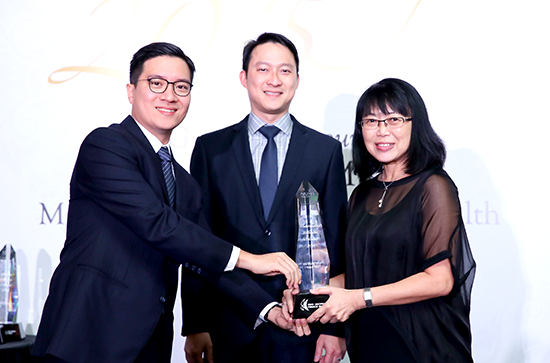 (L-R) : Dr Andy Adhiwana (on behalf of Dr Mochtar Riady), Dr Lam Pin Min (MOS Health) and Dr Betty Mok
How does one measure the worth of a good teacher? Can we assess his or her impact upon students and peers? In Dr Betty Mok, the answers are evident.
Dr Betty Mok - the Deputy Clinical Director of the University Dental Cluster, National University Hospital and also serves as the Director-Designate of the Master of Dental Surgery residency programme in Paediatric Dentistry - has a flair for teaching that endears her to students.
By adopting an open approach to teaching and learning, she creates an engaging and safe environment where students are able to learn independently, broaden their knowledge and sharpen their skills. But it is not just one way. She regularly solicits feedback and comments from her students to advance her teaching skills. While a firm believer in maintaining professional discipline and high training standards of her students, she also tempers these expectations with a sense of practicality and a heart of kindness. Many of her students will fondly remember Dr Mok's encouraging nature where she would be a great source of inspiration and motivation for them when the going was tough. Through such encouragement, Dr Mok has helped many of them see the light at the end of the tunnel and complete the challenging BDS programme to become successful clinicians.
The significant improvements in the teaching of Paediatric Dentistry have been the hallmark of Dr Mok's leadership in dental education. Currently the Programme Coordinator for the Bachelor of Dental Surgery (BDS) Paediatric Dentistry undergraduate programme, she has championed many new initiatives such as the incorporation of new core competencies in student learning and assessment. She also pioneered collaborative learning in the clinical learning environment where students learn from one another through feedback on the performance of clinical procedures.
Many in the Faculty would regard Dr Mok as someone whom they can always turn to for advice, guidance or just a listening ear. She has an unrivalled ability to listen patiently and offer incisive words of wisdom and experience with great authenticity. "As a teacher, Dr Mok was well-liked for her genuine interest in nurturing and developing her students. Even after I graduated, she was always "on-call for consults" - I remember seeking her advice on managing some of my more difficult paediatric cases during my early days as a Dental Officer with the School Dental Service. She was willing to share her experience and expertise openly. Today as a colleague, I continue to enjoy the privilege of being mentored by her. She continues to share her knowledge and experience with me; teach me and inspire me in my work." says Dr Wong Mun Loke.
Compassion and concern for others are distinctive attributes of a mentor too. These are clearly evident in Dr Mok whom Dr Catherine Hong, her ex-student and colleague in the Paediatric Dentistry Programme says "I have seen her stick her hand/neck out so effortlessly for any and every student or patient that needed her help of any kind - be it financial or otherwise, nothing is too difficult for her. I think many students and patients who have been recipients of her big heartedness can attest to that and acknowledge the many times she has gone beyond her role as a teacher or a healthcare giver."
Since joining the NUS Faculty of Dentistry in 1992, Dr Betty Mok has consistently set herself very high standards in teaching. The achievements and accolades she received over the years bear testimony to her single-minded mission to inspire the future generations of dentists in Singapore. For this, she was awarded a record of eight faculty-level Teaching Excellence Awards, and was recognised at the university level with two NUS Excellent Teacher Awards.
Together with her many contributions to dental education, this achievement is a resounding affirmation from students and colleagues of Dr Betty Mok's standing as a mentor par excellence.
To read more about the winners,
please visit: http://www.nuhs.edu.sg/about-us/introduction/nuhs-leadership-awards/winners/2015-winners.html