News
NUS Outstanding Educator Award 2018- Associate Professor Kelvin Foong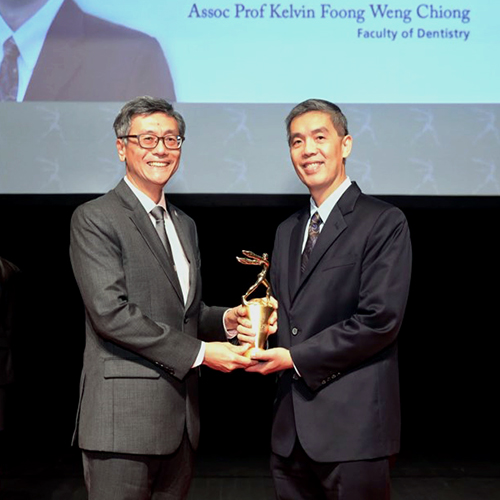 Photo credit: Office of University Communications
The Faculty of Dentistry is proud of Associate Professor Kelvin Foong for receiving the Outstanding Educator Award at the NUS University Awards 2018. Prof Foong is a Programme Director of the Master of Dental Surgery Postgraduate Coursework in Orthodontics, and has made transformative contributions to education, research and service. This is not the first teaching award he has received in honour of his efforts in this domain; he was previously the recipient of the Annual Teaching Excellence Award, the Faculty Teaching Excellence Award and the Academic Medicine Development Award from the National University Health System as well.
Prof Foong implemented a new teaching pedagogy in the MDS Orthodontics programme which fosters collaborative learning among the students through the use of a "ground-up" approach, and developed a Technology-Enhanced Learning framework that guides the development, use and evaluation of technology tools for dental education. Additionally, he is recognised by the International Journal of Paediatric Dentistry, the leading scientific journal in Paediatric Dentistry, as one of two Reviewers for the Year of 2011, out of 537 reviewers. He also published 50 papers in internationally referred publications such as the American Journal of Orthodontics and Dentofacial Orthopedics and the IEEE Transactions on Medical Imaging, as well as over 100 joint conference papers.
Congratulations once again to Prof Foong!