News


Visit by Professor Rena N. D'Souza – 26 & 27 February 2018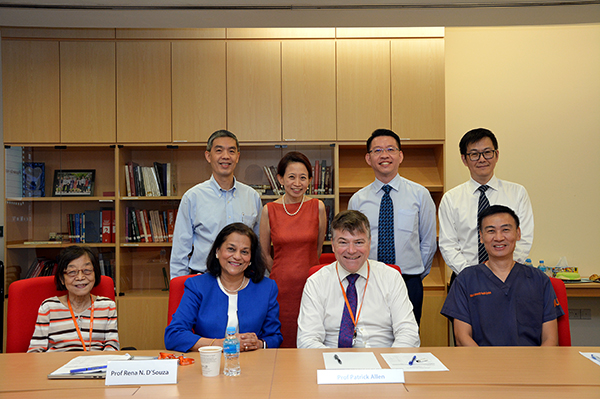 (Front L-R) A/P Lim Lum Peng, Prof Rena D'Souza, Prof Finbarr Allen (Dean, FoD), A/P Asher Lim
(Back L-R) A/P Kelvin Foong, A/P Jennifer Neo, A/P Wong Mun Loke, A/P Cao Tong
The Faculty is honoured by the visit of Professor Rena D'Souza (IADR President Elect and Associate Vice Provost for Research University of Utah) on 27 & 28 February 2018.
This visit aims to explore collaboration opportunities between the Faculty of Dentistry, NUS and the International Association for Dental Research (IADR) & the University of Utah.
Professor D'Souza presented two topics "IADR'S Vision For a New Century of Dental Research and Education" and "Novel Therapies for the Treatment of Craniofacial Disorders" over two lunch talks. It is also our privileged to have the opportunity to interact with Professor D'Souza as she shared her insights into the issues of oral health research.
The Faculty appreciates Professor D'Souza's visit and we look forward to an enriching partnership with the IADR and the University of Utah in the near future!