News
Congratulations Dr Joao on winning the Wrigley Clinical Salivary Research Award for Dental Scientists!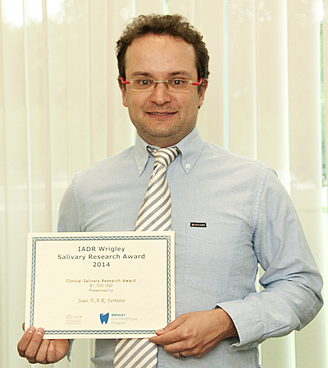 Dr Joao Ferreira
The award is in relation to research project title "Neurturin-expressing adenovirus protects salivary gland function from irradiation damage".   Dr Joao received the award at the IADR General Session meeting in Cape Town, South Africa in June 26, 2014.

Objective of the research:
Head and neck cancer patients often have irreversible salivary gland damage and xerostomia after irradiation (IR) therapy. A potential approach to regenerate a damaged gland and restore function is to stimulate the remaining epithelium to regenerate by branching morphogenesis. Our previous studies showed that Neurturin (NTN) induces branching post-IR in an ex vivo mouse submandibular gland (SMG) model, by promoting parasympathetic ganglia (PSG) survival. Therefore, we constructed an adenovirus encoding human NTN cDNA (AdNTN) to determine whether AdNTN protects mouse SMG function in vivo post-IR.
Main findings:
Adenovirus AdNTN treatment prior to IR protects murine SMG function. Our data suggests that NTN could potentially have therapeutic benefit to prevent permanent IR-induced xerostomia.
You can find more information about the Award on this website:
http://www.iadr.org/i4a/pages/index.cfm?pageid=3855#.U7tkIRbnArw