News
2018 Journal of Endodontics Awards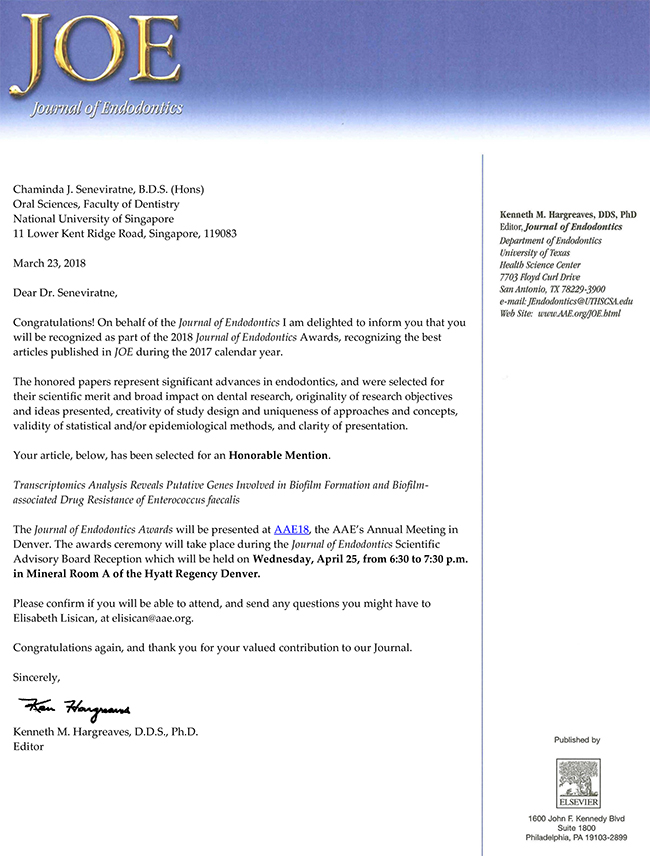 Dr Jaya Seneviratne
The article of Dr Chaminda Jayampath Seneviratne, "Transcriptomics Analysis Reveals Putative Genes Involved in Biofilm Formation and Biofilm-associated Drug Resistance of Enterococcus faecalis' has been selected for Honourable Mentions at the 2018 Journal of Endodontics Awards event at Denver, USA on 25 April 2018.
We extend our congratulations to Dr Jaya for the recognition of the team's hard work and contribution even as they could not make it to Denver to receive the award!
Overview of Article:
Enterococcus faecalis is a bacterial pathogen strongly associated with endodontic infections or "root canal infections of teeth". This bacterium can form microbial communities on root canals of teeth, which are highly resistant to antimicrobial agents. In this study, Seneviratne and colleagues examined gene expression of the bacterium under biofilm conditions using state-of-the-art RNAseq techniques. Investigators found several key genes related to the biofilm formation and drug resistance of this pathogenic bacterium. These new findings will provide a foundation for improved therapeutic strategies against E. faecalis infections in the future.