News
National University Centre for Oral Health, Singapore (NUCOHS) Ground Breaking Ceremony
The National University Centre for Oral Health, Singapore (NUCOHS) Ground Breaking Ceremony was officiated by Minister for Health, Mr Gan Kim Yong at the NUHS Tower Block Auditorium on 21 Sep 2015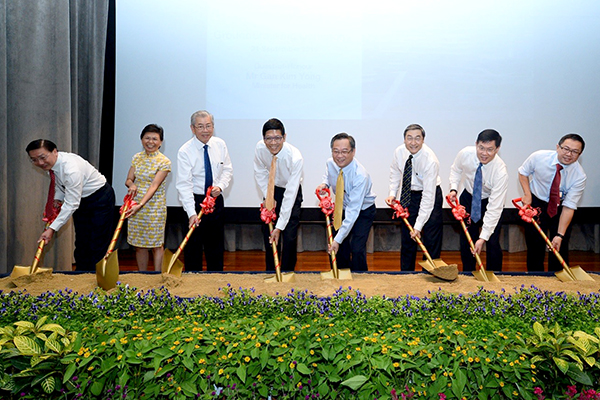 From Left: A/P Patrick Tseng (Chief Dental Officer), A/P Grace Ong (Dean, Faculty of Dentistry), Mr Wong Ngit Liong (Chairman NUS Board of Trustees), Professor Tan Chor Chuan (President NUS), Mr Gan Kim Yong (Minister for Health), Professor John Wong (CE NUHS), A/P Benjamin Ong (DMS), A/P Joe Sim (CEO NUH)
This milestone event is significant as the NUCOHS will be able offer a suite of subsidized specialist oral health care services to the population, thus enhancing the availability and population's access to such oral health care.
The Faculty of Dentistry will have expanded teaching, learning and clinical training facilities to cope with the increased intake of dental undergraduates and graduate students.  Technology-enhanced learning will be a cornerstone of dental education in NUS as we exploit technology to better support interactive, independent and on-demand learning among its undergraduates.
It will be not just a co-location of dental-related infrastructure and facilities.  Instead, it marks a new beginning of enhanced co-ordination, synergy and integration that will allow NUHS Dentistry to champion its tripartite mission of education, research and clinical service and bring it to greater heights.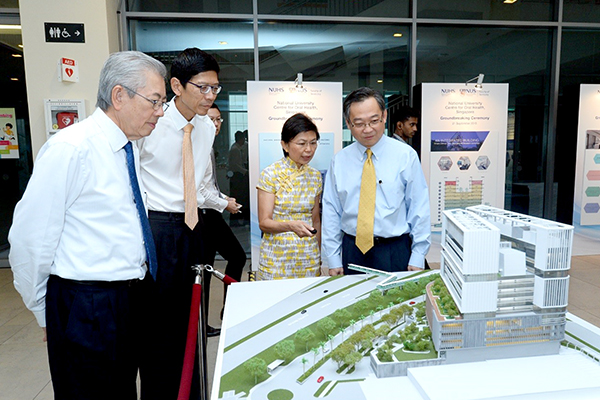 A/P Ong explaining to Minister Gan NUCOHS building details on the model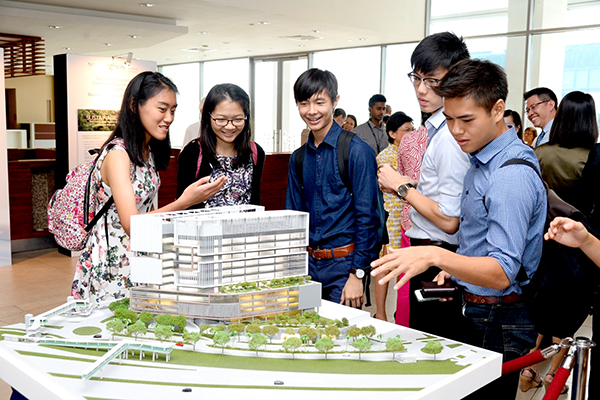 Dental students appreciating and looking forward to the new home of their alma mater