News
Outstanding Undergraduate Researcher (OUR) Prize 2017/18
We are pleased to announce that the following students from Faculty of Dentistry was awarded Best Undergraduate Researcher (Group) Prize! Congratulations!
Project Title

Student Name

Supervisor

Effect of Enamel Hindrance of Light Over Curing Depth of Bulk-fill and
Conventional Composites

ALEXANDER MARK
LEE LIN KAI

Dr Vinicius Rosa

CHUNG CHANGSUN

KOH PEI QIN KLARA

NG SHI QI CELESTE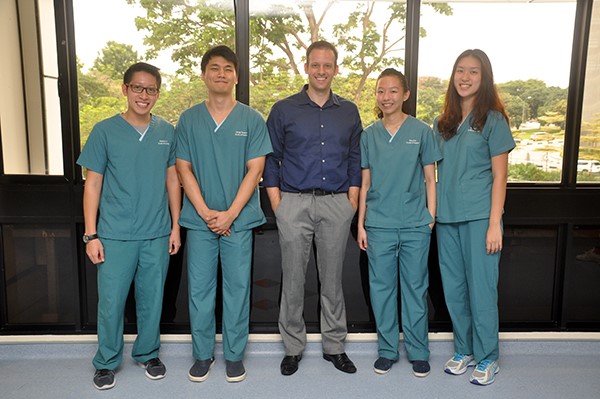 (L - R) : Alexander Mark Lee Lin Kai, Chung Changsun, Dr Vinicius Rosa, Koh Pei Qin Klara & Ng Shi Qi Celeste

About the Prize


The Outstanding Undergraduate Researcher (OUR) Prize was launched in AY 2006-2007. The objective of this annual, university-wide competition is to encourage research among undergraduates at NUS by presenting opportunities for them to participate in research while integrating teaching and research at various levels of experience and expertise. This allows undergraduates to develop the capacity for discovery through research.
Through this competition, undergraduates will have more meaningful experiences at university by fostering learning through hands-on work. It also serves to develop their research skills for use in courses and other academic and professional pursuits; identify academic and career interests; learn about a new field; develop working relationships between classmates and faculty mentors; and provide them a glimpse of graduate life.
For more information, please visit the website :
http://www.nus.edu.sg/registrar/education-at-nus/awards/rules-of-award-o.html