News
International Dental Exhibition and Meeting (IDEM 2016) held on 8- 10 April 2016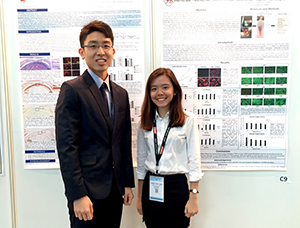 Timothy Sng and Chen Yun

Undergraduate Student, Timothy Sng Jie Han was awarded BEST PRESENTATION and 1st PRIZE in Competitive Scientific Poster Competition.

Project Title: The role of pericellular matrix molecules and their distribution in temporomandibular joint.

Team Members: Timothy J.H. SNG, Yu Jie ONG, Wen Li TAN, Vivien Y.H. ANG, Wern Cui CHU, Shipin ZHANG,
Wei Seong TOH.

Supervisor: Dr Toh Wei Seong


Research Attachment from Singapore Polytechnic, Goh Chen Yun was awarded 2nd PRIZE in Competitive Scientific Poster Competition

Project Title: Cytotoxicity evaluation of bulk-fill composites using fibroblasts derived from human embryonic stem cells.

Team Members: Chen Yun GOH, Kian Hwa TAN, Catherine H.L. HONG, Adrian U.J. YAP, Tong CAO, Wei Seong TOH
.
Supervisor: Dr Toh Wei Seong
---
Polytechnic Student Research Program (PSRP) Award 2016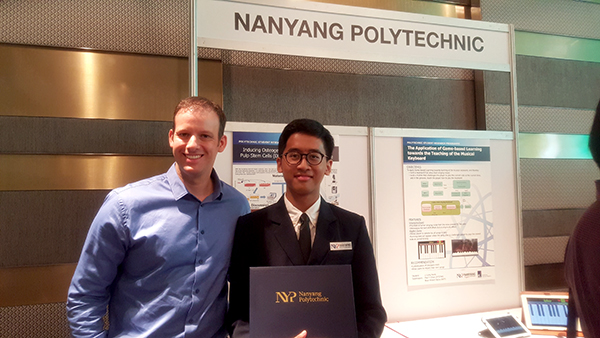 Dr Vinicius Rosa (left) and Mr Muhd Kamal Bin Solehan (right)
Dr. Vinicius Rosa's research attachment student, Mr Muhd Kamal Bin Solehan had been selected as 1 of the 10 project winners for the yearly Polytechnic Student Research Program (PSRP).
Project Title: Inducing Osteogenic Differentiation in Dental Pulp Stem Cells on Cubic Boron Nitride

The PSRP Award Ceremony was held on 16 March 2016 at Singapore Polytechnic Auditorium.

Congratulations!